Top 10 Best Ukulele Brands And Ukuleles 2023 – Ultimate Buyer's Guide and Expert's Reviews
I hope you'll agree: "Life is boring without a ukulele… Or is it?" And getting the right ukulele from the best brands will ensure that you learn faster, play more accessible, and sound better!
But, there is only ONE issue.
Finding the best ukulele is a challenging job. That's why I'm here to make it easy for you. You must carve out a few minutes of your day and tackle your best ukulele from top-rated brands.
Let's dive right in.
I Know We Are All Busy, So… Here Is The Short List:
Brand
Made in
Shapes
Main feature
Kala

Ed's choice

Petaluma, CA
8-shape and pineapple
Affordability, and range.
Cordoba
Spain and China
8-shape and pineapple. Banjo Ukulele!
Affordability and range.
Luna
USA
8-shape and pineapple
Unique design (tattoo)
Fender
USA
Electric (classic fender shapes and headstocks)
Classic fender headstocks on most models
Oscar Schmidt
USA
8-shape reliability
Reliability
Lanikai
Hawaii
8-shape and pineapple wine
Wide range of models and sizes.
Martin
USA
8-shape high
High quality
Hola!
USA
8-shape and pineapple
Beginner ukes
Flea
USA
Mostly pineapple
Unique Design, charitable contribution.
Epiphone
China/Korea
Electric shape (Les-Paul)
Electric
Top 10 Best Ukulele Brands 2023 – In-depth Analysis & Reviews
Best ukulele brands 2023: Kala

Editor's choice
Kala is one of the most well-known names in the Ukulele world. Kala is known for both their quality and playability.
There is a good reason why most, if not all, Ukulele players are very familiar with the Kala brand. They have a wide range of ukuleles, from their inexpensive, durable Waterman line to their heirloom-style California-made Hawaiian Koa Elites. They have a ukulele for every occasion.
I chose Kala as my editor's pick because this is a widely known and trusted brand. If you are looking for an entry-level instrument like the Kala KA 15S, you will have made the right choice. On the other hand, they also offer excellent top-of-the-range models like anything from the KALA elite series.
Kala Ukuleles are highly accessible to all kinds of different players.  I love the brand and would like to talk you through some of my favorites.
| Name | Size | Wood | Pickup | Price |
| --- | --- | --- | --- | --- |
| Kala KA 15S | Soprano | Mahogany | No | |
| Kala-KA-ASAC-T | Tenor | Acacia and Lancewood | No | |
| Kala KA-MK-C Makala Concert Ukulele | Concert | Mahogany and Rosewood | No | |
| Kala KA-MK-P Makala Pineapple-Style | Soprano | Mahogany | No | |
| Kala KAA-15T Limited Edition Satin Mahogany | Tenor | Mahogany | No | |
#2: Cordoba Editor's Choice

brand
Cordoba is another one of those brands with an excellent, longstanding reputation. Many musicians associate the Cordoba brand with Classical guitars, and rightly so.  They make beautiful classical guitars.  Their Ukuleles, however, are no exception.
I put them as my editor's pick number 2 because Cordoba, along with Kala, is a great brand for those who are just starting but are looking for something reliable but affordable.
Cordoba has several different ranges of Ukuleles.  Numbers arrange them.  The entry-level instruments are from the 15 series.  20 is intermediate, 22 is a bit more advanced, and so forth.  So it is easy to see from the model's name that it falls in the Cordoba range.
This is another one of those well-known, respected brands. Let's get into some details with some of my personal favorites and recommendations.
| Name | Size | Wood | Pickup | Price |
| --- | --- | --- | --- | --- |
| Cordoba 20 CM | Concert | Mahogany | Yes | |
| Cordoba 15CM | Concert | Mahogany | No | |
| Cordoba 22C | Concert | Mahogany | No | |
#3: Luna
What many other people and I love about Luna Ukuleles are their unique designs.  These always stick out with their tattoo designs all over their bodies.
Apart from the aesthetic pleasure of looking at them, they are also some of the most playable Ukuleles. Their range of instruments is quite wide, but they cater extra well for all you beginners out there.
If you are looking for a robust, reliable instrument, you are looking for something that will also make you stick out from the rest of the crowd.  Luna is your brand!
| Name | Size | Wood | Pickup | Price |
| --- | --- | --- | --- | --- |
| Luna Tattoo Concert | Concert | Mahogany | No | |
| Luna Mahogany Series Tattoo Soprano Pineapple Ukulele | Soprano | Mahogany | No | |
| Luna Mahogany Series Honu Soprano Ukulele | Soprano | Mahogany | No | |
#4: Fender
I have always loved Fender guitars.  One of the first instruments I ever owned was a Fender Stratocaster.  I have been playing it for more than 15 years now.  So yes, I might be biased in my assessment of their Ukulele, but I can help.
The people at Fender know how to make good-quality instruments.  They have been doing it for so many years! When it comes to Ukulele specifically, I love how the classic Fender headstocks look on the Ukulele.
In general, because Fender is such a reputable brand, you will be guaranteed a certain level of excellence even though they are not primarily a ukulele brand.
| Name | Size | Wood | Pickup | |
| --- | --- | --- | --- | --- |
| Fender Nohea | Tenor | Koa | Yes | |
| Fender Concert Ukulele "Mino'Aka" | Concert | Mahogany | No | |
| Fender Ukulele "52– Sunburst | Soprano | Mahogany | No | |
#5: Oscar Schmidt – Top 10 Best Ukulele Brands
Oscar Schmidt is Acta Washburn division, so they have been making guitars for a g time.
It is not surprising that their Ukuleles are of a very high standard.  What I like about them is that they offer a wide range of instruments, with most of their Ukuleles being of very high quality.
They are competitors in the beginner to intermediate market. That's not to say they don't have some expensive instruments as well, though.
| Name | Size | Wood | Pickup | Price |
| --- | --- | --- | --- | --- |
| Oscar Schmidt OU5 | Concert | Koa (laminate) | No | |
| Oscar Schmidt OU2 Concert Ukulele | Concert | Mahogany | No | |
| Oscar Schmidt Spalted Mango TENOR Acoustic/Electric Ukulele | Tenor | Spalted Mango | Yes | |
#6: Lanikai
Lanikai is generally geared towards manufacturing Ukuleles for beginners.  They have some low-budget options that you can explore if you are starting.
Lanikai has an imposing array of Ukuleles, and they don't get the kind of exposure they deserve.  If you have a look at their website, you will find all shapes and sizes of Ukuleles, all for a very affordable price.  There is an incredible amount of variety that anyone could choose from.
My favorite has to be the LU-21CEK All Mahogany Ac/Elec Concert Ukulele.  I like a Ukulele with a pickup.
The most popular one, however (by far), would be the Lanikai LU-21 Soprano Ukulele. It's just one of those excellent entry-level that's popular because it's affordable and reasonable!
The thing with the LU-21 is that it is, without a doubt, an entry-level instrument.  So if you feel that you might get more serious about playing Ukulele, you might want to consider buying something a little bit more high-end.
The white binding around the edges of the instrument looks magnificent and gives the instrument a kind of high-quality respectability regarding finishing and attention to detail.  This is very rare in entry-level instruments. The Nato wood grain looks splendid and gives the instrument a rustic, natural look.
It probably has a lot to do with the fact that it is a soprano-sized ukulele with a laminated top, but the LU-21 is incredibly light.  It hardly feels like you have anything in your hands!  This helps with playing, especially if you are a beginner.  The Ukulele is not intimidating and is straightforward to get your hands around.
One of the downsides is that the bridge works like a classical guitar bridge.  So you have to tie the end of the strings to the bridge by looping them through. For beginners, this might be very tricky to learn.  In this regard, the Les Paul Ukulele is much easier to restring.
The action (especially the distance of the strings from the fretboard) is alright.  It is not as high as some other budget models. Sometimes when I strum a little more complicated than usual, there is a slight buzz of the strings, mainly when playing barre chords.
The intonation is alright in the low register (where you will mostly be playing as a beginner), but it starts flat as you go up the fretboard. The ukulele tends to stay in tune, even after quite some time of playing.  This might, however, be due to the type of strings.  Cheap strings will always go out quickly, so investing in a decent set of strings for your new ukulele is a good idea, even if the ukulele is cheap.  Good strings can make a big difference.
The sound of the LU-21 is definitely on the bright side.  Not quite twangy, but bright.  You hear many high frequencies, while the lower and mid frequencies tend to fall flat.  Nothing major, but it is noticeable. Overall a decent instrument at a very affordable price!
#7:  Martin – Best Ukulele Brands
Martin is your brand for those looking to spend a bit extra but of high quality.  The Martin company makes state-of-the-art acoustic guitars, and their Ukuleles seem no exception.
Martin makes high-end acoustic instruments.  They understand wood and are actual luthiers.  The level of excellence is transferred to their Ukuleles as well.
The first thing you will notice when you look at one of their models, like the C1K, is its beautiful natural look.  But it's not just the look. The C1K, my favorite Martin ukulele, has a solid Hawaiian Koa top, back, and sides.  The instrument feels thick and stable.
Martin acoustic instruments always have impressive resonance, and the C1K is no exception.  It lives up to my high expectations for the Martin brand.  Rich, warm sounds surprisingly fill a room for such a small instrument.
#8: Hola!
Hola! It is another one of those brands that make life easy for beginners.  They have some of the nicest Ukuleles to start on. I once tried their HM-124MG at a music store, and I have to admit I was impressed.
The sound was pretty typical for an entry-level instrument; what surprised me was how easily it played.  It is a surprisingly well-built instrument that felt sturdy in my hands and had excellent resonance.
There are only a few extras, and the instruments are usually not solid tops.  But when it comes to a beginner instrument, those ready do not matter. It is affordable, has a decent sound, and is SO easy to play!
#9: Flea – Top 10 Best Ukulele Brands
What a fantastic brand! Flea makes some of the most unique but reliably pineapple-shaped Ukuleles you can find.
Most brands focus on the classic eight-shaped ukuleles, but not Flea.  No, they are well-known for their line of pineapple-shaped instruments. I say pineapple because that is the closest I can come to describing it.  But really, it looks almost like a lute.
The company started making Ukuleles in 2002.  They immediately started making their instruments with new and unique designs.
The materials of their instruments are also not like other Ukuleles.  They use a combination of wood and injection molded thermoplastic. The combination of wood soundboard and acoustically resonant thermoplastic body gives their instruments an edge over the traditional standard ukes.
They almost always have a vibrant and bright sound.  The shape makes them very comfortable to hold, and they can even stand alone on one end.  So no need for a stand!
Flea ukuleles are available in Soprano or Concert sizes.  They come in solid maple, or walnut neck necks, laminate tops of hoop pine or walnut bodies, and solid spruce or koa wood tops.
My personal favorite is their natural concert-sized Flea Ukulele.  It is a fantastic instrument.  It might be a bit more expensive than many other instruments I have talked about, but it looks and sounds like a professional Ukulele. It is beautiful with its one-of-a-kind headstock and natural wood color.
Speaking about the headstock: Flea Ukuleles all have a distinctive hollow headstock that looks good.  The headstock, combined with the pineapple shape, forms the basis of their signature instrument design.
Flea also has a series of Ukuleles with unique designs on the bodies.  Like this one that is painted to look like an actual pineapple.  It is part of the Flea designer series that feature some beautiful colorful renditions of original artwork on the bodies. A red and blue version of the Standard Flea Ukulele is also available.
Another good thing about this company…They donate part of their proceeds towards providing children's hospitals with musical instruments.  So, if you can afford these (all around the $200 mark), you will get a beautiful instrument and tribute to a good cause!
One of my favorite brands by far.
#10: Epiphone (electric) – Best electric ukulele brands
If you are a fan of the Les Paul guitar shape and design, you will love the look of the Epiphone Ukulele.  It is a miniature version of the classic Gibson design, complete with the sunburst maple top.
Epiphone, a division of the Gibson guitar company, is not exactly known for its Ukuleles. The Les Pau shape has become iconic thanks to rock stars like Slash and Jimmy Page.  We can all recognize it. It's guitars, though…Not Ukuleles.
But the little soprano Epiphone Les-Paul ukulele is incredibly popular! It is also my favorite electric ukulele. It is cheap, has an excellent acoustic, and has a decent electric sound, especially considering the price.
The Ukulele comes with an excellent quality piezo film under-saddle pick-up so that you can plug in and play through an amplifier.
Despite the unique design and added pickup, this is still an entry-level instrument.  It is affordable and a strong contender for a beginner Ukulele, especially if the electric quality (pickup) is essential to you.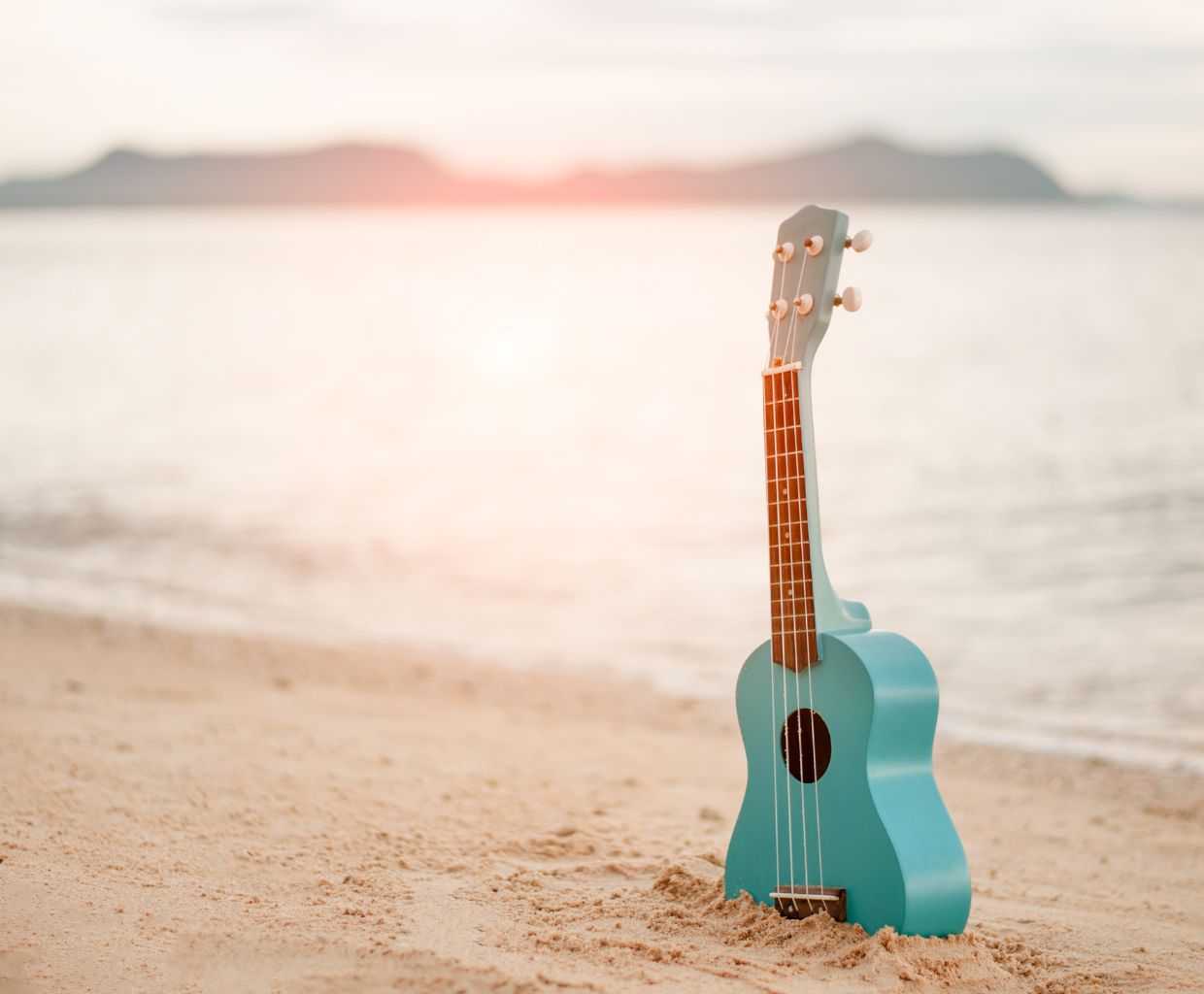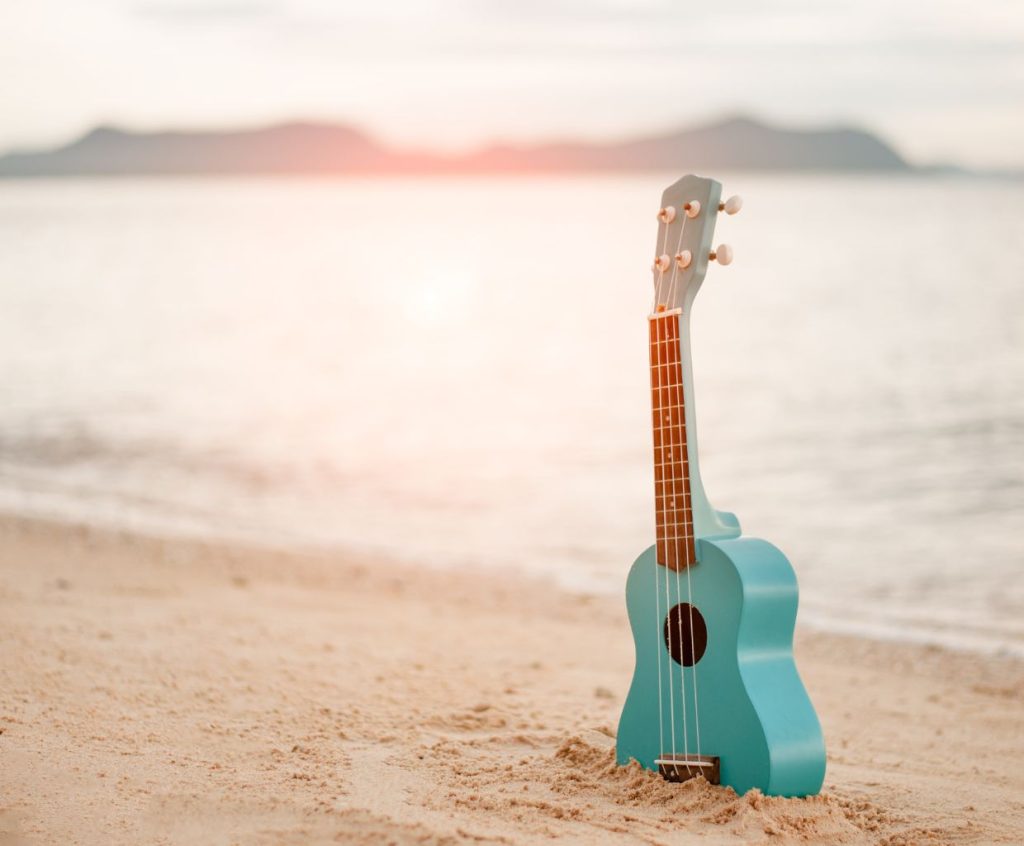 Things to consider when buying a ukulele
When picking an instrument, you must pick what's right for you. Here are a few points to consider:
There are four different sizes of ukulele. They are soprano, concert, tenor, and baritone from smallest to biggest. It is not a one-size-fits-all; each has pros and cons depending on your desire. The size you choose will also depend on your level of competence.
The bigger the size, the more complicated the instrument gets and the more versatility in sound. I recommend the concert to beginners. This is because it is slightly bigger than the soprano, giving it a fuller sound and accommodating to more extensive hands. The choice is yours! Here are some brief points to think about when choosing which size is best for your needs:
If you're a beginner, this is the most common option. This is your traditional type and makes the sound most attributed to the instrument. Lucky for you, it's usually your cheapest option. Con: if you have big hands, this size may be challenging to play on.
Slightly more significant than the soprano, it produces a fuller sound. One of the benefits of this is that you have more room to play around on the fretboard.
If you're a pro, this one is for you. The bigger size means you have more room to maneuver and higher volume. It is perfect for producing solos, given the space for versatility. This is an excellent option if you have big hands, even if you're a beginner.
Not recommended for beginners as it is different instrumentally from the other ukulele and may be challenging to learn to play
Once you've picked the type, it's time to consider the shape. Please feel free to pick a ukulele that you love to look at.  One that motivates you to practice and make it sound as good as it looks! There are three different shapes that the ukulele comes in.
The guitar/ figure-8 shape is the most commonly known. It looks like a miniature guitar which some people don't like. For this reason, some people prefer the pineapple shape.
The pineapple shape gives the instrument a fuller and richer sound because it is rounded at the back. This design makes the instrument look different from the guitar, which some people prefer. However, it can be an uncomfortable design, so think wisely about what you want.
Last and least the V-shape. Although these may look cool and are often very generous, they are affordable for a reason! They are very uncomfortable playing and make bad sounds. Stay away from the V-shape.
Materials can be tricky. Solid wood ukuleles are beautiful and produce richer sounds as they age. Different types of wood are priced differently and produce different sounds. The Koa is native to Hawaii and is the original wood of the ukulele. However, this can be very expensive. If you're on a budget, go for Mahogany. This is usually reasonably priced and produces warm tones. Spruce is a good alternative if you don't have much to spend but want a solid wood ukulele. The sound is bright and happy, making it a personal favorite.
Ukuleles are great around a fire with friends, and wooden instruments are easier to crack and break. In this case, consider going for plastic or laminate wood. Although the sound may not be as rich, it is an excellent alternative if you are on a budget, a beginner, or like to travel with your instrument!
For the advanced:
Consider experimenting with six and eight-string ukuleles. The extra strings give the instrument a fuller sound that can be fun to explore. Please stay clear if you are a beginner, as this is very challenging to play.
It all comes down to your sound when playing the instrument. That's the only thing other people hear, and that should be a massive consideration when you pick your brand.
Look for the instrument that has the sound that you like.  Try to identify the characteristic Ukulele sound that appeals to you.  What do your favorite players sound like?  Do they have a warm thick tone or a more honkey-tonk high treble sound?
Please pay attention to how warm or bright the sound you are looking for; it is the most basic tone measurement.  Ukuleles generally tend to have relatively flat, high-end tones, so if you find something with a rich, warm tone, you know you found something special.
Your budget will help you determine your instrument. Expensive ukuleles do not necessarily mean better ukuleles. If you're on a tight budget and a beginner, start with an entry-level ukulele to learn the basics. The Kala KA15s is an excellent starting choice!
How did we pick?
As you can see, there are lots of things to consider! This list is a balanced combination of some of my favorite ukuleles and some with friends and musicians who have highly recommended them.
When picking a ukulele, I ask myself a few questions.  These are the same questions I asked myself when coming up with a list of the top 10 Ukulele brands: Does it make a good sound? Is it affordable? Is it durable? Is it beautiful to look at? Is it comfortable to play?
Every person has different tastes and may answer those questions differently. Irrespective of what you need and want from your ukulele, these are all excellent quality! Here is how I answered the questions.
Does it make a good sound?
These are instruments. Instruments make music. The most important thing is the sound they make! For a more traditional sound, I selected sopranos with a happy tone. Bigger ukuleles were chosen based on the richness and roundness of their sound.
I love solid wood ukuleles as they mature with age and make richer sounds. All my options are wooden, but the type of wood is a personal preference. For this reason, I have included different types for you to explore.
I've also looked at sizes to accommodate personal sound. Some people are looking for the traditional ukulele sound and prefer a soprano. The more advanced player may want something more significant.
Is it affordable?
This always depends on the budget! For this reason, I have included a broad price range to suit everyone's wallet. If you're a beginner, I've included cheaper options so that you can learn the instrument before making a big decision.
There are also great options for those with a high budget who want to spend a little more on their instrument. If you're advanced and want to take your love for the instrument further, I've included something for you too!
Is it durable?
Wood, wood, wood! You can't be wrong with wooden ukuleles. They will age with you and grow into their sound.
Is it beautiful? Is it comfortable?
You need something that is both! I love the guitar-shaped ukuleles. These are elegant and comfortable to play with. Pineapple shapes are stunning and unique. They set themselves apart from guitars. For this reason, I've included one too.
For the sake of good taste, I haven't included v-shaped ukuleles. These are uncomfortable and silly to look at.
Top 10 Best Ukulele Brands – Conclusion
This was a helpful and informative guide to help you understand what some of the different Ukulele brands offer.  I tried to include everything.  From my favorites and recommendations to what I know is popular or reputable.
Reading this article gave you some helpful information you can use to go out there and get the right ukulele brand for you. Music is a lifelong journey, and you will probably still play on many different brands and models as you progress on your musical path.  I hope this is a good start.
If you like this article, please like and share this page.  Also, please let us know what your favorite ukulele is.  Did we leave it out?  Why do you like it?  Let us know!
Until next time, keep practicing, loving the Ukulele, and reading.