10 Best Electric Guitar Brands Of 2023 In The World – Ultimate Guide
Are you looking for the best electric guitar brands? Yeah! Okay, choose from the best electric guitar brands to suit your needs and look great with this helpful guide for guitarists of all levels! Would you instead get the proven model or trust a relatively unknown brand? This is especially true for those looking to buy their first instrument. With that in mind, we have compiled a list of the top 10 electric guitar brands you can trust.
We will discuss each and explain why they are the best guitar brands. On top of that, we will mention some models we have had the chance to handle in the past.
I know we are all busy…So here is the list of the top 10 best electric guitar brands in the world:
| BRANDS | BUILD QUALITY | DESIGN | VALUE |
| --- | --- | --- | --- |
| Fender | Impressive, both the Mexican and U.S. Made. | Some of the most iconic guitar designs out there | Not the most affordable brand, but a positive value |
| Gibson | Among the finest electric guitars available today | Timeless designs which have become classics | Great value, despite more exclusive price tags |
| PRS | Made in the U.S, built for performance | Unique PRS designs, which are different but good | You get more than you pay for |
| Ibanez | Excellent build quality all around | Mostly sharper Super Strat, which has become their trademark. | Legendary bang for the buck |
| ESP | Built like tanks, especially the more expensive models | ESP's solutions which feature some of the familiar design | Great bangs for the buck |
| Jackson | Good across the range | Unique designs with a lot of Super Strat mixed in great | Great value for the money |
| Epiphone | Impressive, depending on the model | All of the Gibson legendary shapes are offered | Bang for the buck champion |
| Yamaha | Overall solid build quality | Yamaha's solutions with a lot of inspiration from other brands | Indeed a bargain at this point |
| Schecter | Excellent build quality and choice of tonewood | Schecter's own, aggressive designs | Some of the best metal guitars out there. Definitely worth the investment |
| Squier | Solid build quality depends on the model standard | Standard Fender body shapes and styles | The definition of great value. |
Top 10 Best Electric Guitar Brands
#1: Fender
If there is one company that is known in the guitar business, it's Fender. After all, they are the ones who created the first commercially successful solid-body guitar. Leo Fender, one of the founders and the genius behind the brand, gave us some of the most iconic guitars of today. We are talking Stratocasters, Telecasters, and more.
Today, Fender guitars are among the most sophisticated and best-sounding instruments you can get. There are two families of models which we need to mention – Stratocaster and Telecaster. Each of these comes in a variety of versions. The reason why Fender is by far one of the best guitar brands out there is the level of quality they offer.
Fender guitars are made either in the United States or Mexico. A limited number of guitars are being made in Japan, but those are only sold on the Japanese domestic market. The difference in quality between the U.S. and Mexican Fenders is noticeable but could be better. No matter which one you go for, you will get the same refined tone that made this company famous.
The craftsmanship of Fender guitars has always been top-notch. U.S.-made models are the best example of what you can expect from Fender. Reliable, good-looking, and refined, these guitars are still the standard in the industry.
While Fender isn't known for innovation, its designs are considered classic and timeless. It comes down to whether or not you like the aesthetic, and most people do. With that said, it's no secret that Fender guitars are built for rock and other less aggressive genres of music.
Fender guitars were never cheap. However, you can still get one for a relatively reasonable amount. The value on these axes is excellent, and you always get more than you paid for.
Notable Fender Models
1. Fender Stevie Ray Vaughan Stratocaster
Fender's signature series have always been some of the best guitars this band could produce. Fender Stevie Ray Vaughan Stratocaster is one of the most notable models in the series. I've only had the chance to play this Strat once, and it was enough to make me fall in love with it. The whole thing is tuned for performance.
The most defining feature has got to be the neck. It's thicker than the standard Strat neck, which gives extra meat to work with when bending those strings. Even the fretboard was designed around this technique, with its narrow frets and flat fretboard. It's not the cheapest one out there, but Fender Stevie Ray Vaughan Stratocaster is one of the best Strats around.
2. Fender Standard Stratocaster
Next Strat model is the base version that brings the best bang for the buck. The reason for this is the fact Fender Standard Stratocaster is built in Mexico. With that in mind, I couldn't find a single flaw in the craftsmanship, and I've owned this guitar for years. Everything about the Standard Strat is as essential as it gets.
That means a single tone or sunburst finish, a C profile neck with either a rosewood or maple fretboard, and standard Fender single coils. Even so, the guitar sounds great. You can squeeze out a variety of tone colors from it, and it just dominates when you need precision. For this price, it's a steal.
3. Fender Modern Player Tele Plus 
Telecaster is the original solid-body guitar. Ever since, this iconic model has only grown in popularity. This Tele we look at here is a bit different. It comes packing a H/S/S pickup configuration, which you don't often see on these guitars. With that said, it feels and sounds fantastic. I had it set up with a vintage Marshall Plexi, and the sound was impressive. There's more tonal range than you get in a standard Telecaster.
4. Fender Classic Series '70s Stratocaster
Suppose you are a fan of vintage Strats, this Fender Classic Series '70s. Stratocaster is something you need to check out. It comes packed with a U-shaped neck instead of the standard C shape and brings a set of vintage single coils. The headstock is an older design that perfectly matches the theme Fender was after.
In terms of tone, it feels as bright as a modern Strat but brings a different tone color. I hooked it to a Fender Twin Reverb with a fuzz stompbox in the middle. The tone I managed to dial in was straight out of a Hendrix manual.
5. Fender Jimi Hendrix Stratocaster
Speaking of Jimi Hendrix, Fender also makes a signature model inspired by this legend. We all know Jimi was a leftie playing a standard right-handed model. This led him to play it upside down, which became his trademark. Fender Jimi Hendrix Stratocaster brings a lot of that aesthetic in a right-handed configuration.
We are talking flipped headstock and pickups, just like Hendrix had it. The guitar itself feels great to play, even though it took me a minute to get used to the reversed components. The tone is all there and is very reminiscent of Jimi's earlier sound. Overall, it's an excellent guitar for those who want something different.
Pros
 Among the most legendary guitar brands in existence
 Impressive tone and build quality
 Iconic style
Cons
 Can be pretty expensive, depending on the specific model you're looking at.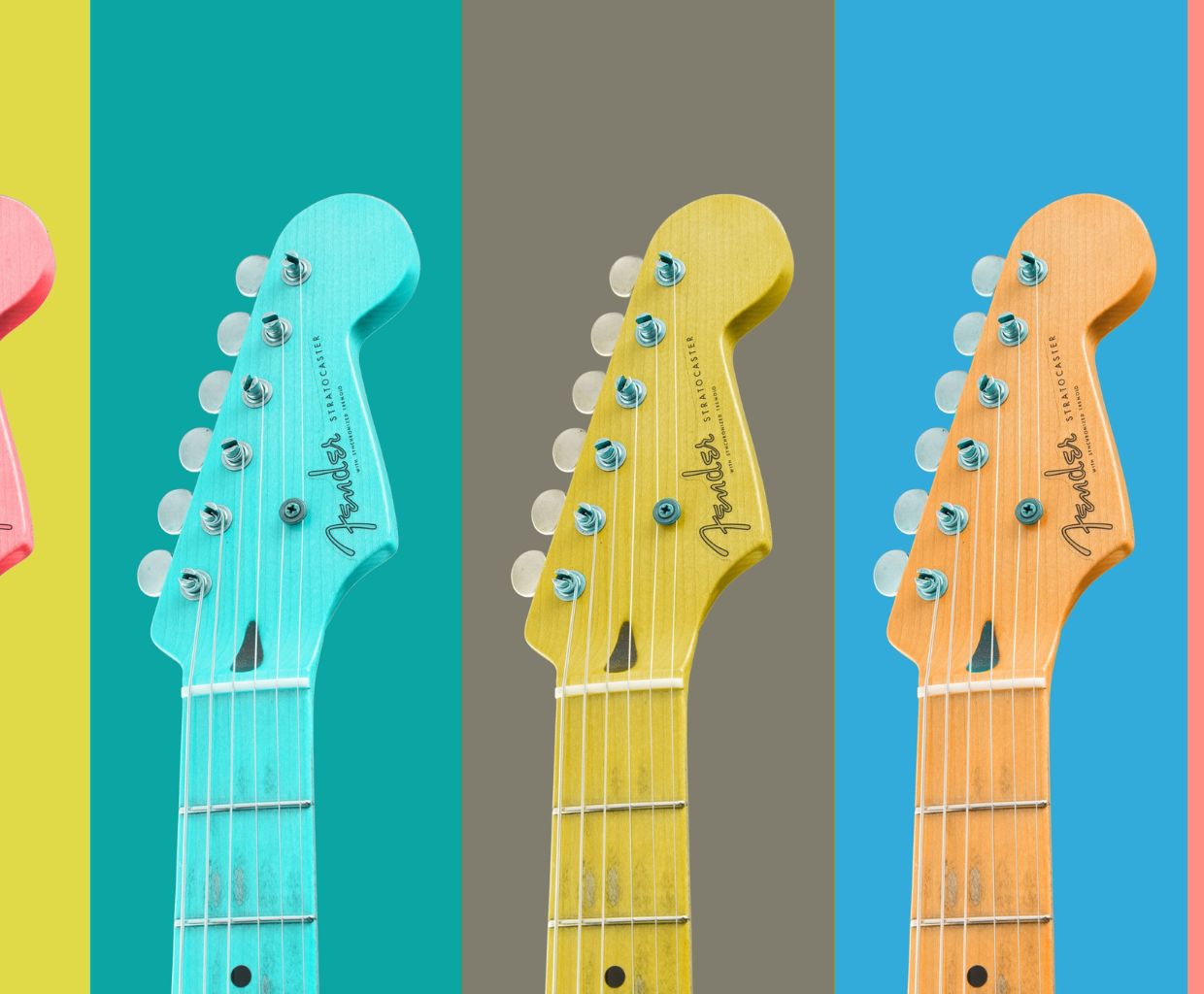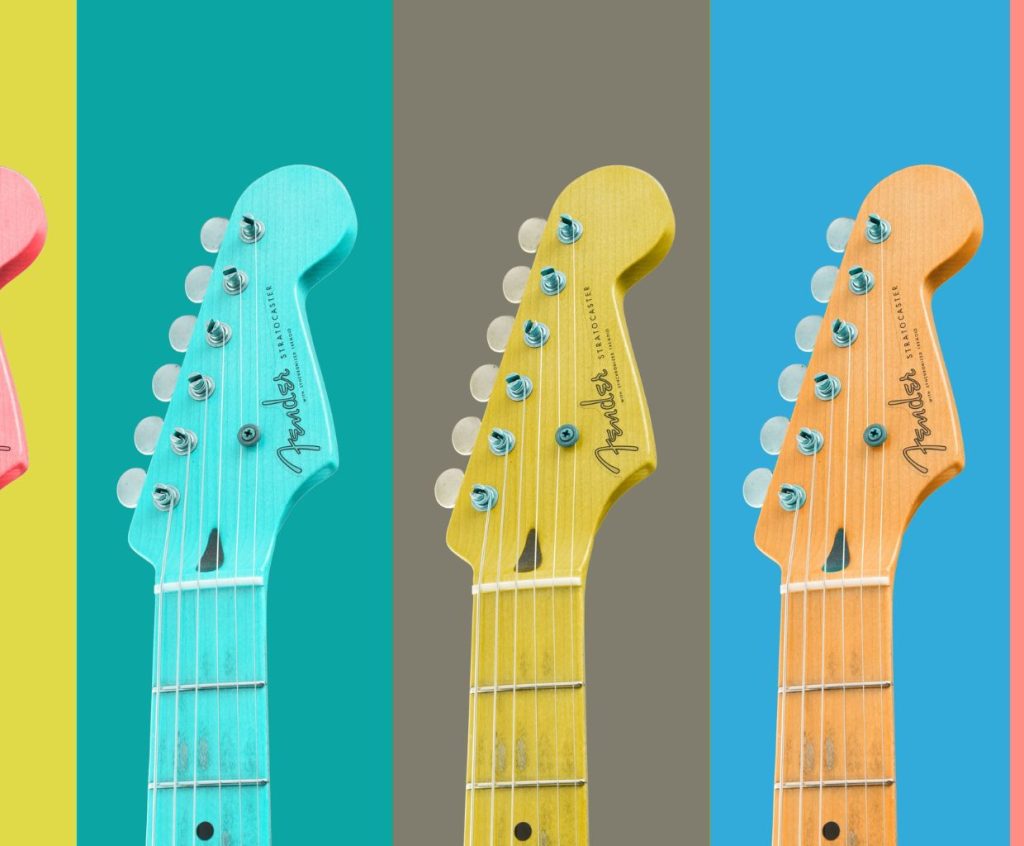 #2: Gibson – Best Electric Guitar Brands
If Fender is Ying, then Gibson is Yang. The former used to be the go-to brand for single-coil precision work, while Gibson was the leading choice for those who needed a bit more meat in their tone. This company has been around for a while and is still making some of the most refined guitars available on the market.
Gibson guitars are among the elites when it comes to building quality. This brand has been the go-to choice for many legendary guitarists because they build rock-solid instruments. This is more than apparent when you look at one closely and feel it in your hands.
Some of Gibson's legendary designs are Les Paul, SG, and Explorer. Unique and iconic, Gibson guitars have been among the most comfortable and aesthetically pleasing models for a long time. This is a trend that continues to this day.
Gibson guitars wildly range in price. However, most models with Gibson's logo on the headstock will bring unique value to their users. You can't go wrong with a Gibson guitar; that's a proven fact.
Top 5 Notable Gibson Models
Gibson Les Paul Standard Heritage Cherry Sunburst
Gibson offers a whole variety of models, but if you want to experience this brand, Gibson Les Paul Standard is a must. This is as old school as it gets from a brand-new guitar. The finish on this one is Cherry Sunburst, which is as iconic as the model itself. With two PAF humbuckers, you experience the vintage tone that launched Gibson into stardom.
The first time you plug this Les Paul into an amp, the sound that comes out will put a smile on your face. It's that vintage growl of a legit PAF that you can't recreate completely with
anything else. We pushed a Plexi into overdrive and rolled off the volume a bit for that true rock tone. We weren't disappointed. Gibson Les Paul Standard Heritage Cherry Sunburst brings that same epic tone for which the whole series is known.
Gibson Les Paul Studio Faded 2016 T
The following model is a bit of a contrast to the Les Paul Standard we've talked about previously. It's a basic, stripped-down modern version of this guitar. Even so, the detail and build quality level isn't too different. It's still an American-made Gibson and packs a mighty punch.
What puts the Studio version aside is its reasonable price. If you want a traditional Les Paul but insist on it being made by Gibson, this is as good as it gets. The one we tested a few months ago left a great impression, even when we pushed it outside its comfort zone.
Gibson Firebird 2016 T
Firebird is one of those less-known, but legendary Gibson models. The 2016 version brings the core of what this bodyshape is all about, with more modern components. Even though my experience with Gibson Firebird is limited, it's one mighty guitar. It comes with mini humbuckers, and the sound is pretty unique.
You can play anything from rock to metal on this bad boy without being limited.
Gibson Flying V Pro 2016 T
Flying V is a shape that became popular within the metal scene a couple of decades ago. Gibson Flying V Pro 2016 T brings that same design in a more stylish package. Even though it looks unusual, the guitar is very well-balanced. I was more than pleased with the tone, which was very versatile, to begin with.
Gibson SG Standard 2016 T
Alongside Les Paul, SG is probably the next most popular Gibson model. The double cutout design makes it perfect for reaching those higher notes comfortably, while the whole guitar feels very solid. Rock comes naturally to this axe, although it brings a lot of range. Playing a legitimate Gibson SG should be on every guitarist's to-do list.
Pros
 Variety of legendary designs
 Great build quality and finish
 Iconic tone
#3: Paul Reed Smith – Best Electric Guitar Brands
While it's not as popular as the two previous brands, we have mentioned, PRS is on a level of its own. American-owned and made, these guitars are the epitome of quality and great sound. They have a unique appearance and offer a distinctive color tone. The best thing about this brand is the balance of price and performance. You get a lot more than you pay for with PRS.
Build Quality
For the most part, PRS gets you that premium American-made quality. This varies from model to model; however, most can build excellently using various tonewood guitars, sometimes resulting in an interesting tonal range and color.
Design
Unlike many other brands which recycle already established designs, PRS delivers their own site experience; PRS guitars are comfortable, easy to play, and pretty, and all fronts. If you want something that is found somewhat exotic, PRS is on.
Value
The value PRS guitars bring to the table is great. You excellent get a fine craft finely instrument at a more than reasonable price. There is nothing overblown or overstated about Paul Reed Smith models, that is for sure.
Top 5 Notable PRS Models
PRS S2 Vela
PRS S2 Vela is one of the more extraordinary models in this company's lineup. This is made apparent by the body shape that stands out from their usual designs. When I had some one-on-one time with this axe, it left a good impression. One thing that stuck with me was just how light it was. That usually means a thinner tone, but not with this PRS. It plays great and is pretty smooth.
PRS TRCGB SE Mark Tremonti
Like any other brand, PRS has its series of signature models. PRS TRCGB SE Mark Tremonti stands out with the amount of warmth in its tone. This is a Les Paul design, but it has a twist. If you're a fan of Tremonti, this PRS will get you close to his trademark tone.
Paul Reed Smith PRS SE Carlos Santana 2010
Another name that is usually associated with PRS is Carlos Santana. He has several guitars that bear his name, and this one is probably the most popular. It's affordable, sounds great, and plays like a dream. After mere hours of playing it, I've realized just how expressive you can be with it. It impressed me enough to take a high place on my list of guitars that I have to get. It didn't take me long to make one a part of my collection.
Paul Reed Smith Guitars SE Standard 24

Paul Reed Smith Guitars SE Standard 24 is their baseline model that brings many features you can find in more expensive PRS guitars. It offers a great combination of electronics, hardware, and tonewood—all at a price that makes it a bargain.
If you're looking for a neutral-sounding guitar with enough punch to play whatever genre you're into, Paul Reed Smith Guitars SE Standard 24 is worth checking out.
PRS SE Custom 24
Custom 24 series have been the bread and butter of PRS for a long time. This guitar has proven to be a capable axe that can keep up with you no matter where you go in terms of music. A good friend of mine used to own one for a long time, which allowed me to play it numerous times. It's one of the smoothest and best-sounding guitars I've ever had a chance to play.
Pros
 Great build quality
 Great value for the money
 Good tone
Cons
 Pretty unique tone that won't sit well with everyone
#4: Ibanez
If you have ever played or listened to metal, you probably know about Ibanez. This brand has been around for a while and has become a patron saint of those who like harder-sounding music. Built for speed, Ibanez guitars bring finely tuned instruments that enable players to explore their skill limits. On top of that, any Ibanez guitar will be excellent value for the money.
Build Quality
While they aren't known for handcrafted guitars, Ibanez's build quality is legendary. Of course, that depends on the model, but anything aside from their entry-level stuff will be rock solid. More expensive models will let you know just what quality you're dealing with as soon as you pick them up.
Design
One of the features that define Ibanez guitars is their aggressive design. They combine sharp edges with great hardware to give you a guitar built for speed. Those high notes will be easy to reach no matter which Ibanez model you lay your house on.
Value
For years, Ibanez has been the price-to-performance ratio king. That is their business policy. Even the cheapest entry-level models will hit hard and rank above their weight class.
Top 5 Notable Ibanez Models:
Ibanez JEM7V
Ibanez produces several signature series, but none even come close to Steve Vai's JEM guitars. JEM7V is one of the most intriguing electric guitars Ibanez offers in general. Its performance is legendary, just like the man who designed it. I've had a chance to play it once, and it completely blew my mind. The thing was built to be an extension of your body, plain and simple.
Ibanez S770PB
Moving on to more neutral designs, we have Ibanez S770PB. It's a beautiful guitar that packs a mean punch. The quality of tonewood, hardware, and components, generally, is pretty high, considering the price. It's a working musician's guitar and an excellent choice for your primary axe.
Ibanez S670QM
This is a similar model to the one we just talked about. However, it's a more basic version. Aside from a different finish and several other factors, it's the same guitar. Tone-wise, everything is on point, and you can dial in great tone colors. The S series is one of my favorites. I have a lot of hands-on time with them, and they are on my list of favorites.
Ibanez JEMRWH
This JEM is an entry-level version of the 7V we mentioned earlier. While it doesn't have the same range as the guitar it was inspired by, Ibanez JEMJRWH still brings you a good portion of Steve Vai's core tone. In many ways, it's an excellent institute for those on a tight budget. I compared the two, and the playability was almost similar.
Ibanez GRX70QATBB
Remember how we said that Ibanez has some pretty rad entry-level guitars? Well, Ibanez GRX70QATBB is worth mentioning. It belongs to the legendary GRX family and brings a well-balanced performance for the money. I bought one of these for my nephew and had to put it through its paces before I handed it over. It's a bit rough around the edges, but one visit to a guitar shop took care of that.
Pros
 Built for speed and metal
 Great quality
 Value for the money champions
 Rich range of models
Cons
 Limited range of tone that is mainly oriented towards more complex genres of music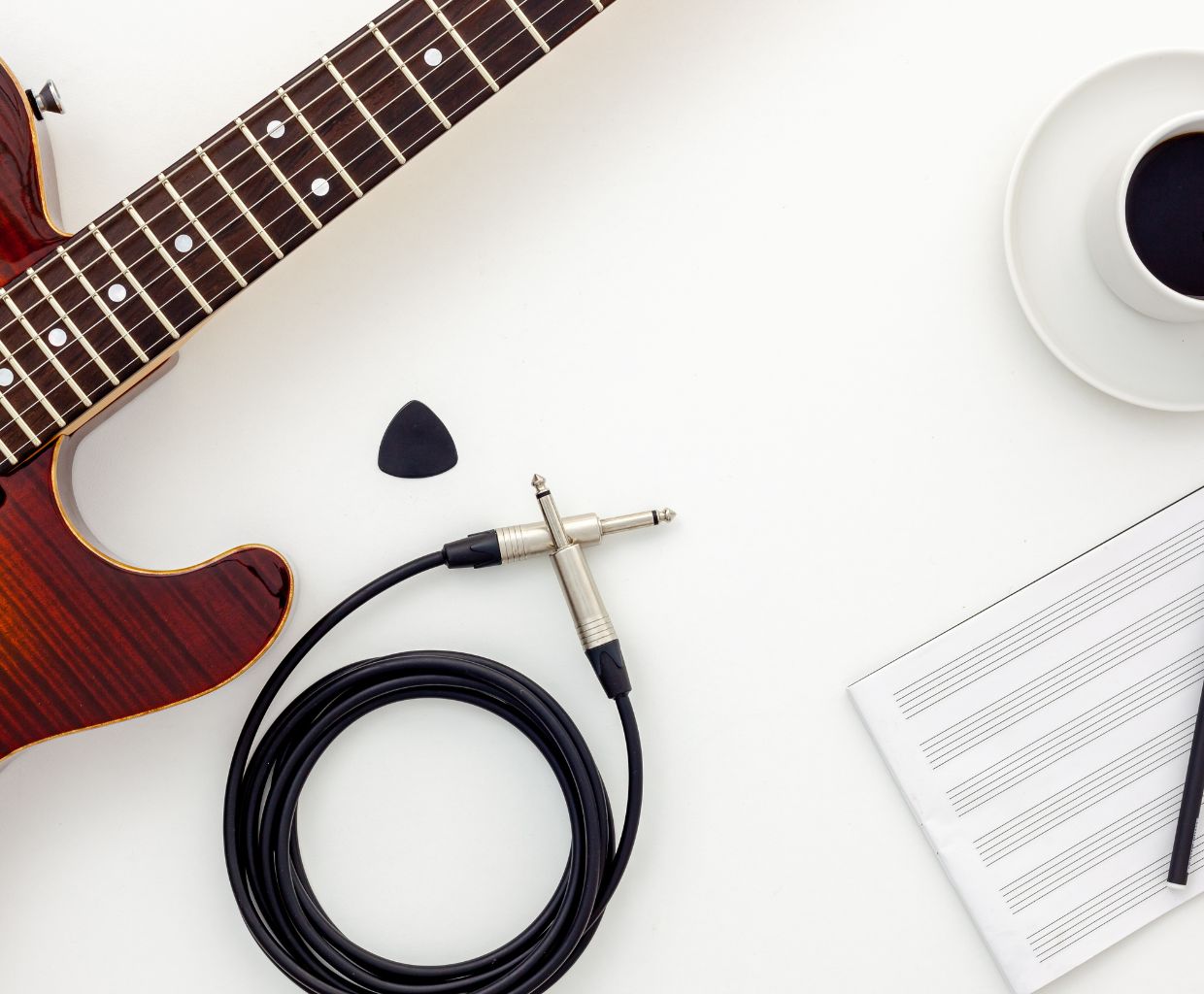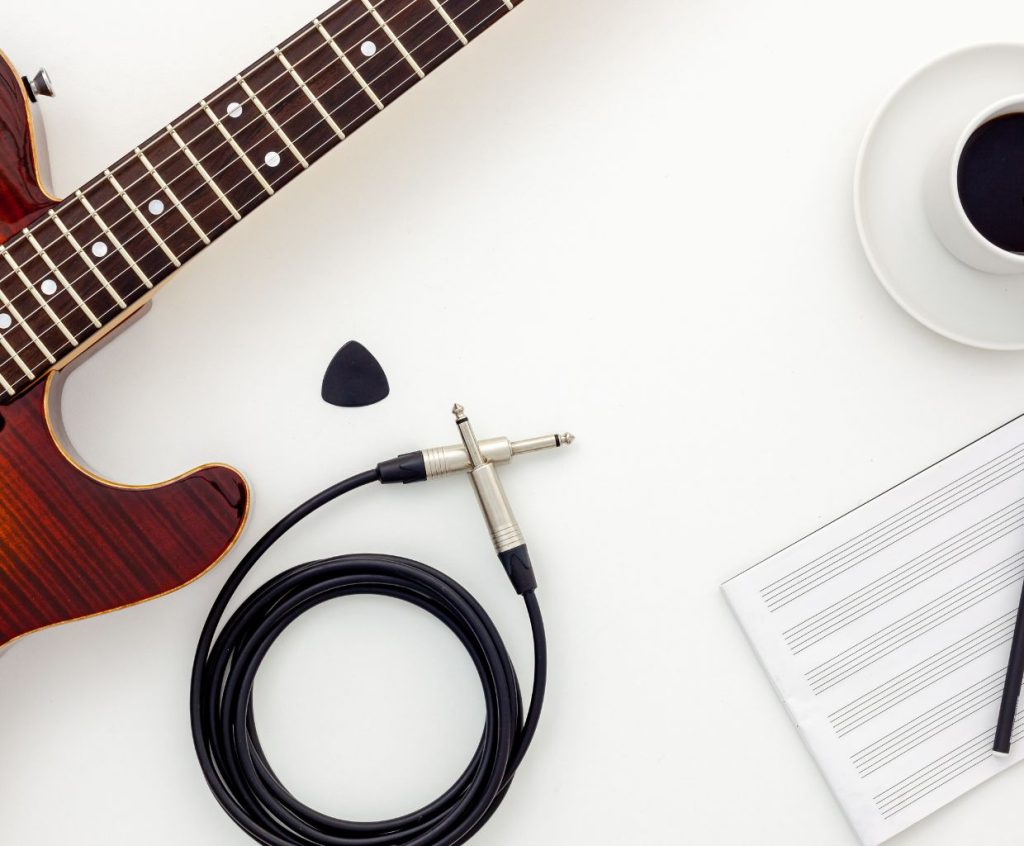 #5: ESP – Best Electric Guitar Brands
What started as an aftermarket parts company has grown into a real giant. ESP is a brand building some of the best guitars in the mid-range segment of the market. Even though they are often associated with the metal scene, ESP offers various models. In all honesty, you rarely receive the same bang for the buck ESP can deliver. On top of that, their guitars are good-looking as well.
Build Quality
Build quality is generally going to depend on the price of the model in question. Some more expensive ones, like tanks, are built using quality materials and components. Entry-level ESP guitars will bring the same type of tradeoffs other brands do, but the quality level is generally decent.
Design
ESP guitars are utilitarian above anything else. With that in mind, there is beauty in their simplicity. ESP offers a variety of body shapes and finishes. However, the most basic models are the ones that define the brand. In the case of ESP, it's all good in terms of design.
Value
The range of models ESP offers includes some pretty expensive guitars and entry-level models. No matter which end of the spectrum you are interested in, you will see the same type of value for the money ratio. It's going to favor the user every time.
Top 5 Notable ESP Models: 
ESP KH-2 Kirk Hammett
Both Kirk and James have a long and fruitful relationship with ESP. A-2 is just one of many Kirk Hammett signature models which are available. It is also one of the most refined. The guitar is a beast, to put it simply. It has the range, the output, and the finesse to push just about any playing style. Although I only briefly played it, the guitar left me in awe. Everything was smooth, easy to reach, and just comfortable.
ESP E-II Horizon FR
For a more neutral experience, we bring you ESP E-II Horizon FR. This is one of ESP's top-tier models, which packs a set of high-output Seymour Duncans. Build quality is top-notch, and so is the performance. We tested this guitar some time ago, with a number of us having the chance to play it for several days. Anyone who picked it up was in love with it at the end of the day. It's just that good.
ESP LTD Iron Cross James Hetfield Signature Model
Everything about this guitar screams James Hetfield. From its design and finish to its tone. It's a Les Paul-style body shape packed with two hard-hitting EMGs that bring on the thunder like nothing else. Even though LTD, ESPs daugh ESP'scompany ESP's the guitar, it's one of the more refined models in their lineup.
For the most part, Iron Cross is everything you would expect it to be. We like the neck profile and how the action sits. Add to that the massive output from those EMGs, and you have a winning combination.
ESP LTD MH-100QMNT
Another LTD model quickly on the same level as the standard ESP stuff is the MH-100QMNT. The guitar comes from the top of LTD's entry-level lineup and brings an excellent price-to-performance ratio. I've had a lot of time to play with this guitar, and at first, it didn't sit right with me. As I played it more, I got used to the contour of the neck and the way its body 'moves.' From that point on, ESP LTD MH-100QMNT grew on me rather quickly.
ESP LTD M Series M-100FM
Lastly, we have the M-100FM. This guitar features a body similar to the Super Strat style Ibanez is known for, packed with great pickups. This is a mid-range guitar, but it is capable compared to its immediate competition. If you need an axe that looks good and plays well, ESP LTD M Series M-100FM is the ESP for you.
Pros
 Great value for the money
 Good build quality
 Great performance
Cons
 Centered around heavier sound
#6: Jackson – Best Electric Guitar Brands
Jackson is another great American guitar manufacturer that has been at the peak of popularity a couple of decades ago. These days they are still considered to be an authority in the industry. The current Jackson lineup includes legendary models revamped in a new and brand-new edition. People are usually divided regarding Jackson. Still, no one can claim that their guitars are not among the best.
Build Quality
For the most part, the build quality of Jackson's guitars is excellent. Some of their entry-level models will occasionally have some issues. However, that is not something that only Jackson has to deal with. On average, you are looking at a solid guitar.
Design
Jackson guitars always featured that Super Strat body with straight edges and more accentuated cutouts. That hasn't changed. While they might come across as crude initially, there is a delicate balance in this type of design.
Value
Jackson guitars are still considered some of the best bang-for-the-buck axes you can pick up. The value is there, but it differs from model to model. In most cases, you will get what you paid for and then some.
Top 5 Notable Jackson Models
Jackson Pro Series SL2
While it's not the most refined thing, Jackson Pro Series SL2 is a force to be reckoned with. Minimalist design combined with bulletproof components is the recipe you want if you're looking for a solid guitar. Playable, with a great tone, this Jackson spiked my interest in the brand again. Best of all, it's reasonably priced, considering what it offers.
Jackson King V KVXMG X Series
King V has got to be one of Jackson's most iconic guitar families. The one we are looking at here is underpowered compared to the original King V. However; it also comes at a much lower price. The whole package is well-made, and quality control is top-notch. It takes some time to get used to the Flying V body shape, but you'll refuse to return once you do. Aside from looking good, this thing also brings a mighty sound.
Jackson JS32 Dinky
JS32 Dinky is one of those old-school models stuck around for a good reason. The guitar is similar to the SL2. However, it brings a much more neutral experience. It's about that Floyd Rose-style tremolo bridge, two kicking humbuckers, and a fretboard built for speed. While I wouldn't say it's the best guitar I've ever played, Jackson JS32 Dinky gives its competition a run for their money.
Jackson JS32T Kelly
This model stands out from the rest due to its modified Explorer body shape. It's one of the more affordable guitars with such an exotic design. However, it looks not only pleasing but also sounds good. There's enough juice in those pups to make any amp scream. Explorers aren't my thing, but I can't say that Jackson JS32T Kelly was wrong when I played it. On the contrary, it's pretty good.
Jackson JS22 Dinky
Finally, we have the good old Jackson JS22 Dinky. This is more or less Jackson's default entry-level model. As such, it brings the type of performance every beginner wants. Especially if they plan on playing metal. The pickups on this thing don't have a lot of range, but I've managed to squeeze a light fuzz out of them. There wasn't much range, but the consistency of tone was more than satisfactory.
Pros
 Reasonably priced
 Good build quality
 Great tone
Cons
 A bit rough around the edges
 Pretty niche oriented
#7: Epiphone
What started as Gibson's daughter company that was tasked with producing affordable guitars has grown into a giant. Not so long ago, Epiphone was the brand you turned to if you wanted a legit Les Paul but didn't have the money for Gibson one. Today, things are vastly different. Gibson stepped up their game across the board, producing some of the best guitars on the market.
Build Quality
While no one expects to see Gibson's build quality, Epiphone is up there with the greats. Their entry-level models might come with some compromises, but the high-end stuff is spot on. Long gone are the days when Epiphone meant questionable build quality.
Design
In terms of design, you are looking at the same stuff Gibson offers, only done in a more cost-effective package. Every legendary body shape in Gibson's lineup will also be present in Epiphone's. These designs are timeless.
Value
Since they first appeared, the price-to-performance ratio has always been the strong suit of Epiphone guitars. A variety of models bring anything from entry-level deals to much more refined packages. Those on a budget who still want some Gibson vibe will find that in Epiphone.
Top 5 Notable Epiphone Guitars
Epiphone Riviera Custom P93
Let's kick things off in style. This guitar is one of Epiphone's mid-range semi-hollow models. As such, it has to meet much more refined standards. Many wondered if Epiphone could deliver such a guitar, but the answer is a strong yes. With its three Dogear Alnico pups, this thing is a beast. If you know how to handle a semi-hollow, you will find that Epiphone Riviera Custom P93 brings a lot of range. At least, that's the type of impression it left on me.
Epiphone WILDKAT Royale
The next modelfollowinganother semi-hollow design; this time, we are lo,oking at a more neutral guitar. I wouldn't go so far as to say it's somewhere between a solid body and a semi-hollow. That would be wrong, but it does have a more complex tone for a model of this type. It didn't take me long to find the proper setup, and off we went. Sound, playability – everything is on point.
Epiphone Les Paul Standard
Now that we mentioned some exotics, it's time to return to the roots. Epiphone Les Paul Standard is as old school as it gets. Legendary LP body style that brings a no-nonsense combo of hardware has always been the way to go. I have one of these, and after years of playing, it keeps surprising me. I'd say it easily punches way above its price range.
Epiphone Les Paul-100

The LP-100 is among the most affordable but also the most popular Epiphone models. It is the quintessential beginner guitar. Epiphone Les Paul-100 brings you that classic aesthetic inane affordable package that is rather grand. While it's not something you'd want to do a world tour with, this Epiphone is perfect for beginners and intermediate players.
Epiphone SG-Special
SG Special is the same thing as the Les Paul 100. The most obvious difference is the body style. Other than that, you get very similar electronics and overall build quality. Many people learned their first chords on this guitar, keeping it as one of their favorite axes. I've played this thing a few times, and it has some juice.
Pros
 Great value for the money
 Good build quality
 Decent finish
Cons
 Often rough around the edges, depending on the model you go for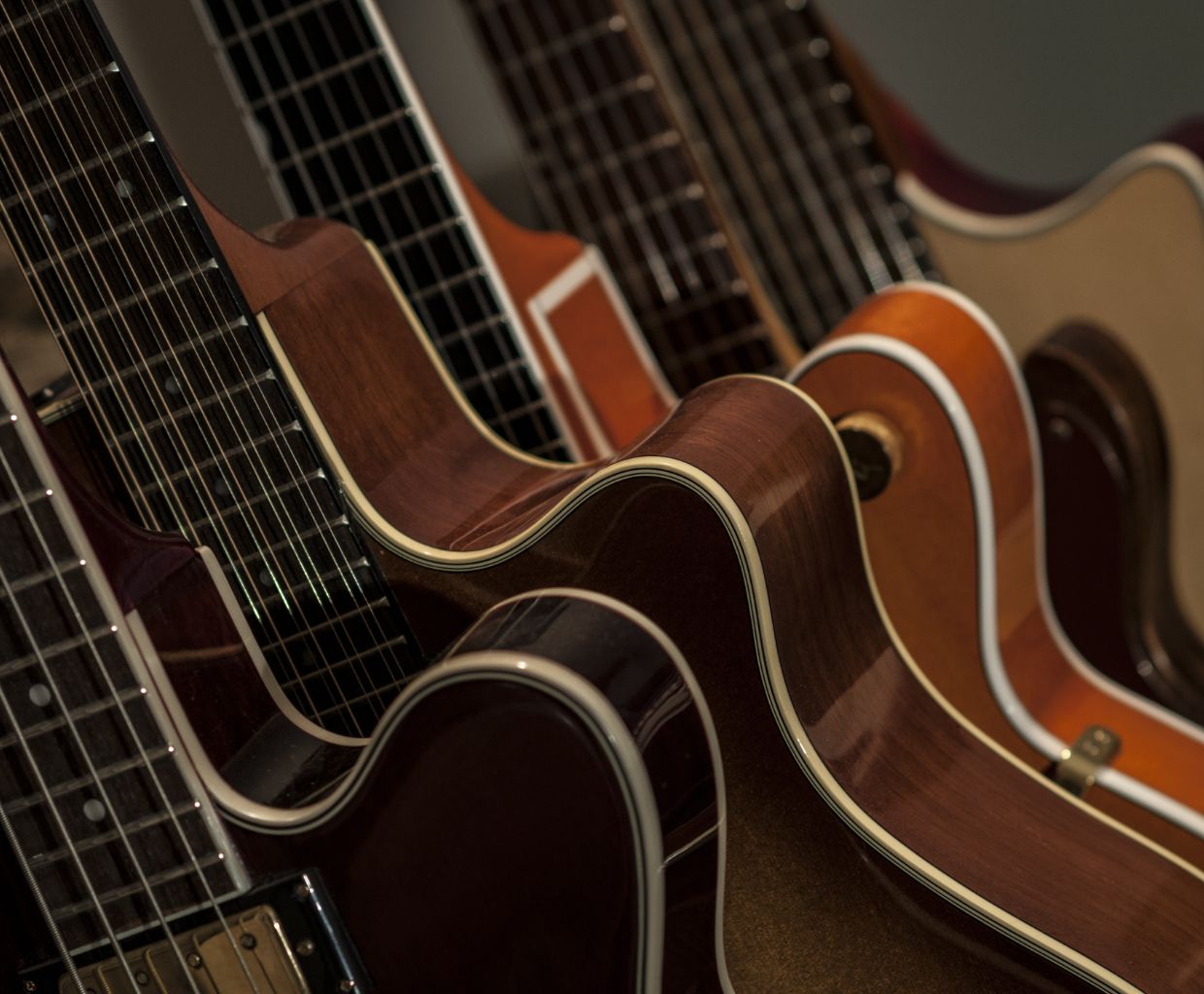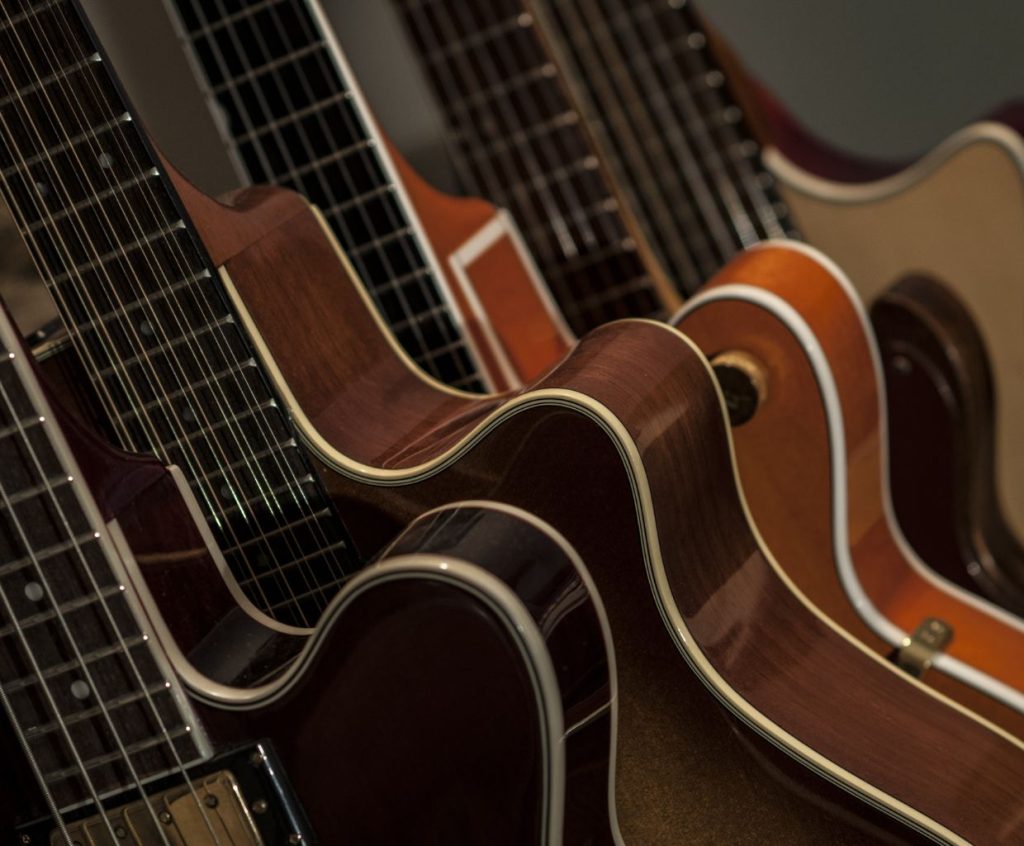 #8: Yamaha – Best Electric Guitar Brands
Yamaha is one of those names you don't often see outside the realm of keyboards and digital pianos. While their footholds in relatively limited in the stringed instruments market, their quality is well known. Yamaha builds some of the most balanced and best-performing electric guitars in their respective categories. That is simply the truth. They might not be as popular as other brands, but that is a different story.
Build Quality
When it comes to guitars, Yamaha operates at high levels of precision. Even their more affordable models will be solid right off the bat. It's not the handmade type of craftsmanship, but relatively high precision machine manufacturing, which they seem to have perfected.
Design
Yamaha's guitars offer an exciting blend of modified Super Strat body shapes combined with a Stratocaster-like pickguard. The result is pretty exciting and unique, no matter how familiar it may be.
Value
One area where Yamaha shines is the value of its guitars. Due to their limited popularity, Yamaha is the brand that will set you up with an excellent guitar for a bargain price. Realistically, most of their models are undervalued to some extent.
Top 5 Notable Yamaha Guitars
Yamaha RevStar RS420
For a guitar that sits comfortably in the mid-range segment of the market, Yamaha RevStar RS420 packs a decent punch. The body shape is more reminiscent of a PRS than anything else, but Yamaha infused it with unique details. The sound is tight and very flexible, and I had no issues dialing in the ton I was looking for. A well-rounded model, that's for sure.
Yamaha Pacifica PAC311H
Pacifica is by far Yamaha's best-known family of electric guitars. PAC311H, we look at here, brings a beautiful combination of pickups. It comes with Alnico V P-90 at the neck and Alnico V Humbucker at the bridge. The tone is entirely different, which I found to be rather refreshing, especially if you need lots of expressions.
Yamaha Revstar RS320
While it might look identical to the RevStar RS420, Yamaha Revstar RS320 is very different. The shape is the same, along with most of the hardware. However, the tone is a whole different story. While RS420 comes with vintage humbuckers, the RS320 packs a set of more modern and extremely hot pups. I liked this configuration more than the vintage one because it offers extended versatility.
Yamaha Pacifica PAC120H
The relation between the PAC120d and PAC311H is similar to that of those two RS models. 311H is an old-school design, while 120H packs much of that modern heat. What's great is that both models feature Alnico-based humbuckers. This means you can count on having some of that vibe no matter which one draws your attention.
Yamaha PAC012
Last but not least, we have the Yamaha PAC012. Their entry-level model features Fender solutions and great hardware configuration for the price. Even though I entered the studio knowing it was a bare-bones beginner model, this Pacifica grew on me quickly. The guitar is simply playable and keeps up.
Pros
 Affordable
 Good build quality
 Great tone
 Lots of configurations to choose from
#9: Schecter
Much like ESP, Schecter started as a parts company that decided to start building its guitars. From day one, it was theirs to deliver ultimate metal guitars. Everything from the design to the choice of electronics pointed n this direction. It didn't take long for Schecter to become one of the go-to brands with reachable elite levels.
Build Quality
One of the best-defining features of Schecter guitars is their build quality. It seems that they always go the extra mile. Schecter's bodies are solid and made of great tonewood, depending on the application, and their array of finishes is impressive. In simple terms, build quality is not something you need to worry about with this brand.
Design
Schecter pretty much uses rather original designs for their guitar. There'ssome superior Strat DNA in there, but you will be hard-pressed to find many guitars that don't have it. Comfort was always something this brand thought about, as well as aesthetic appearance.
Value
If you are looking for a top-tier metal guitar, Schecter offers the best value for the money at the moment. That is simply the way things are. Their more elite models bring more versatility but retain that positive performance-to-price ratio.
Top 5 Notable Schecter Guitars
Schecter Blackjack Slim Line Series C-1 FR Sustainiac
Let's kick things off with one of Schecter's top-tier models. Blackjack Slim Line C-1 FR is one of their more refined guitars. It's slim, lightweight, and brings the kind of thunder that will give you goosebumps. With a set of premium Seymour Duncans, we expected nothing less. My brief encounter with this axe was one of the most enjoyable playing sessions I've ever had, and I've played many guitars.
Schecter Damien Special
Unlike Blackjack, Damien is made for metal thru and thru. It features a fast neck, a set of hot EMGs, and a sinister look. The guitar takes kindly to gain rich configurations and drop tunings. You can djent, you can shred, Damien will keep up with ease. Overall, it's my go-to model in Schecter's lineup.
Schecter Hellraiser C-1
Here's one more metal marauder that is worth mentioning. Schecter Hellraiser C-1 comes packing a lot of output and a tone that naturally handles all kinds of distortions. We are talking mahogany body combined with a set of EMG 81/89s, which should be enough to spark your imagination. Plugged into a Messa/Boogie Dual Recto's red channel, this puppy felt at home.
Schecter S-II CUSTOM
Those who appreciate a more vintage design will love the Schecter S-II CUSTOM. It's an original design borrowed many ideas from Gibson's legendary SG series. Pickups also align with the overall theme, and they sound great. There's balance in the tone, which you don't expect to get from a Schecter. It took me by surprise, a delightful surprise.
Schecter Omen Extreme-6
Lastly, we have the bread and butter of Schecter's mid-range selection. Schecter Omen Extreme-6 is one of their oldest and most popular models to hit the market. This guitar brings a decent balance of price, performance, and build quality. While it's not as fancy as the previous models we have mentioned, you know it's made for serious business as soon as you pick it up.
Pros
 Great build quality
 Awesome finishes and details
Hard-hitting tone
 Great value for the money
Cons
 Generally oriented toward metal
#10: Squier – Best Electric Guitar Brands
Fender's quality is as widely known as their steep prices. It's no secret that not everyone can afford one of their guitars. This is why they acquired Squierlong and tasked the company to build more affordable versions of their guitars. In the beginning, the quality was iffy at best, but today the situation is entirely different. Squire of today is a trustworthy brand that brings cost-effective Fender-style guitars to those on a budget.
Build Quality
On average, the build quality is going to be good. Some models are pretty questionable, but others are on the same level with more expensive counterparts. Squier is up to the task if you are looking for the first electric guitar or a practice axe that you can use as a backup.
Design
Every design Squier offers comes straight from Fender's book. Stratocasters, Telecasters, and other iconic models are reproduced with great accuracy. If you ignored the logo on the headstock, you'd have trouble determining if you're looking at a Squier or a Fender.
Value
Being generally affordable, Squier is still the king regarding value for the money. They offer a wide variety of models, including the most basic and high-end stuff.
Top 5 Notable Squier Guitars:
Squier by Fender Vintage Modified Telecaster
Telecaster is considered the oldest solid-body electric guitar in the world. It is difficult to capture that type of pedigree, but Squier managed to pull it off. Handling the Squier by Fender Vintage Modified Telecaster brought back memories of my youth when Telecaster was the go-to axe. This is one guitar worth trying out.
Squier by Fender Vintage Modified Jazzmaster
Jazzmaster differs from most people's body styles, but this model is too good to overlook. We are talking about excellent build quality, authentic design, and a tone that goes the extra mile. The guitar is not meant for heavier genres of music, although we had a lot of fun putting it through its paces.
Squier by Fender Classic Vibe 60's Stratocaster

These days it's hard to determine where Squier's end and Fenders begin. Squier by Fender Classic Vibe 60's Stratocaster is a perfect example of what we meant. It's a well-built guitar with admirable craftsmanship and a good tone. The difference between this model and a Mexican Strat was too small, making me somewhat uncomfortable.
Squier by Fender Affinity Telecaster
Affinity series is where you will find all of Squier's beginner models. A decent size of today's guitarists sharpened their teeth on one of Affinity Squiers. This Telecaster will not give you the authentic Tele experience, but it's a great learning tool that brings an abundance of style.
Squier by Fender Bullet Strat
Like the previous model, Squier by Fender Bullet Strat represents the Stratocaster beginner family. It's a guitar full of tradeoffs, but you are finding a model more capable in this price range. I've played many of these and have one  I use strictly for practicing at home. I like it, even though it's somewhat limited.
Pros
 Affordable
 Authentic Fender style
 Good tone
Cons
 Not overly versatile or flexible
 Needs a setup right out of the box
Things To Consider When Buying The Best Electric Guitar Brands
The brands we discussed today are considered the most trusted on the market. Even so, you should skip the bare-bones entry-level models as those are bound to come with a flaw of some sort. We showed you several guitars from each of the brand's current lineups. Those represent well-rounded and balanced choices for beginners and intermediate players alike.
How To Evaluate An Electric Guitar Brand
Remember that each cited Mark has many different models, some better than others. Above all, the definition of how good a brand or model is will depend on the personal taste of its user. When it comes to music, there is a lot of controversy and discussion about the best tone, the best touch, and the most beautiful design. Ultimately the perception of each person is different.
We're just trying to guide those seeking to know good guitar brands. This list is not intended to be exclusive or limiting. Of course, the amount you are willing to pay is too much regarding the definition of the right guitar. Soon we will be adding this list marks a bit cheaper and cost-effective. If you think we missed any brand that deserves to appear on the list, send your suggestion to [email protected].
Best Electric Guitar Brands – Finishing Thoughts
Your personal preferences will prevail. The brands listed above will include just about every style of guitar you can wish for. This goes both for aesthetics and tone. I can safely say that sticking to my picks won't leave you disappointed. Hopefully, you have found this guide helpful. Do you like my choices? If so, leave a comment below and give me your two cents.