Best Guitar Pedal 2023 – The Complete Buyer's Guide & Reviews
If you have an electric guitar, sooner or later, you will start looking into pedals.  Guitar pedals are the things that essentially make the electric guitar sing the way it does.  It is, however, not always easy to buy a guitar pedal.  It can be pretty overwhelming but don't worry.  This article was written to help you find the best guitar pedal.
Now, it is essential to point out that many different pedals have different characteristics.  This article will cover a little bit of everything.  We will include them all, from distortion to wah-wah to reverb and chorus—even some multi-effects pedals.
The type of pedal you buy depends on the type of sound you have in mind.  Some like clean, spacey sounds, while others want something more hardcore.  We will try to cover the whole spectrum here.
So don't be too worried, and don't be too overwhelmed.  Take a look at our top picks, as well as our considerations and in-depth reviews, and you will be well on your way to getting the perfect guitar pedal to get just the sound that you are looking for.
Things To Consider When Buying The Best Guitar Pedal
There is such a wide range of pedals that serve such a wide range of functions.  Therefore, there are quite a lot of things that need to be carefully considered before you buy your guitar pedal.
It frequently happens that guitarists, especially beginners, want to buy a pedal without really understanding the different effects and their sound.  We will list some important things for you to consider before buying the wrong pedal.
The truth is that you will most likely buy several pedals over your guitar-playing career.  Not a single pedal addresses everything you want to alter in your sound.  Think of pedals as a collection.  As you advance in your playing and taste, you might want to keep adding different sounds to your repertoire.
So, apart from discovering precisely what each pedal does (you will be able to see it in the reviews), there are several things you should keep in mind when buying your pedal.  Considerations vary from personal taste to your amplifier and your chosen genre of music.
Here are some of the most important things to try to keep in mind when you buy your guitar pedal:
| | |
| --- | --- |
| Clean/Distorted | One of the first things guitarists want, generally speaking, is distortion.  They want that dirty, screaming electric guitar sound.  If this is what you are after, you need to look at fuzz, overdrive, distortion pedals—other types. Like delay and reverb, only change the character of your tone or add effects that might drastically alter the sounds you produce but will not give your guitar that dirty electric tone. |
| Amplifier   | This is an important one.  Most amplifiers these days have some effects built in.  Be sure to play around with the sounds offered on your amp to know what you have and need.  If your amp already has a distortion channel, for example, check that you are happy with the type of distortion.  You might even want to supplement it with a distortion pedal if you want an even heavier sound. |
| Analog vs. digital | All pedals works with either analog or digital signals.  The older pedals all work with analog, while a lot of the new technology is digitally based.  You will always find people who swear by either one or the other.  The truth is that it comes down to personal preference.  When digital technology was used in effects pedals, they initially sounded much worse than their analog counterparts.  But in recent years, there has been so much technological improvement that digital pedals can sound just as good and, in some cases, even better than analog ones. |
| Noise | Noise should be a constant concern for any electric guitarist.  There is no general rule of thumb when it comes to noise.  The combination of pickups, cables, pedals, power supplies, and amps will determine your rig's quiet or noisy at the end of the day.  When you buy a new pedal, check how well it interacts with the rest of your board: power power |
| Power supply  | Most pedals (apart from volume pedals) need some power supply to work correctly.  If you add a pedal to your existing rig, you have to check that it is compatible with the power supply you are using for your rig.  If you are buying a single pedal, check what it uses for power.  It would be best to buy batteries or a power adapter to get your pedal fired up. |
| Volume and tone  | When you put together a pedal board, you want to maintain consistent volume and tone when changing sounds.  It can be very frustrating when you activate (for example) your delay, and suddenly, your level drops, and you can't hear a thing.  Or if you activate your distortion, the added gain blows everybody's ears off.  The pedal you buy should allow you to adjust the output volume and tone so that it can blend seamlessly with the other sounds you use. |
| Multi Effect | Some pedals contain a whole bunch of different effects inside one pedal.  These are called multi-effects pedals.  If you buy a multi-effects pedal, there are quite a several things that you would need to look out for.  Remember that you can put a multi-effects pedal onto an existing pedal board.  You would need to be mindful of how it blends with the rest of your sounds.  Also, check the output gain levels.  If the multi-effects pedal has a built-in preamp (and many do), be careful that the gain is not too high, as this might damage your other pedals or even blow your amplifier. |
In short
Buying a pedal is always fun, whether your first or the latest one in your ever-growing awesome rig.  But here is a quick summary of things to keep in mind to make sure you are getting the right thing:
 Know whether you are getting something that will keep your tone clean or distort your sound.
 Get a pedal that works with your amp. Look at what your amp already has and get something to supplement the sound
 Choose between analog or digital sounds…or go for a combination!
 Watch out for the noise level of your new pedal
 The new pedal's volume and tone must blend in with the rest of your rig.
 Consider a multi-effects pedal if you want to get a little bit of everything.
Best Guitar Pedal 2023 – Top 10
| NAME | SIZE | TYPE |
| --- | --- | --- |
| Dunlop GCB95 Cry Baby Wah Guitar Effects Pedal | Medium-large (long) pedal wah-wah | Wawah-wall boss boss boss boss |
| Boss DS-1 Distortion | Stomp box, small | Distortion |
| MXR M234 Analog Chorus | Stomp box, small | Chorus |
| Zoom G1Xon | Medium box, and expression | Multi Effects Pedal |
| Joyo JF-12 Voodoo Octava Guitar Pedal | Stomp Medium | Octave and Distortion |
| BEHRINGER VINTAGE TUBE OVERDRIVE TO800 | Stomp box, regular | Overdrive |
| Donner Yellow Fall Vintage Pure Analog Delay | Stomp box, extra small. | Delay |
| Ernie Ball MVP | Medium – Large volume pedal | Volume |
| DigiTech RP55 Guitar Multi-Effects Processor | Medium size | Multi Effects |
| TC Electronic Ditto Looper | Small | Looper |
What Did Not Make Our List:
Electro Harmonix Small Clone
I always say that Electro Harmonix makes some of my absolute favorite pedals.  The small clone is no exception.  It is a pity I had to leave this one off the list.  Unfortunately, there was only space for ten pedals.
This is one of those rare all-analog chorus pedals.  The look is very straightforward, but it is a very impressive little pedal.  It is versatile, compact, and affordable.  It simply had to be left out because we already had a good chorus pedal on our list.
MXR M75 Super Badass
Another highly versatile pedal from MXR.  And just as the name suggests, this pedal is a badass.  It allows you to crank up the gain.  It does not hold back!
It fell short of our list cause it is just a bit too hardcore for the scope of this list.  Have a look at our distortion pedal reviews if you think you need a bit more.
The ultra-high gain and long sustain mean that this pedal is well-suited for heavy metal or grunge music.  The distortion pedals on this list tend to be more versatile to cater to a slightly broader spectrum of guitarists.
But if you are into the heavy stuff…this is your pedal!
Our Pick For The Best Guitar Pedal 2017
The pedal we chose as our number one pick had to be legendary.
Something that has been around for a while.
Something synonymous with the electric guitar.
Something with the endorsement of Jimi Hendrix.
What would that be, you ask?
Well, it's the Dunlop Cry Baby Wah Pedal, of course!
As you will see in our review below, this is the pedal that has been around since the 60s and can still be seen on the pedal boards of guitar heroes worldwide.  Our number one best guitar pedal!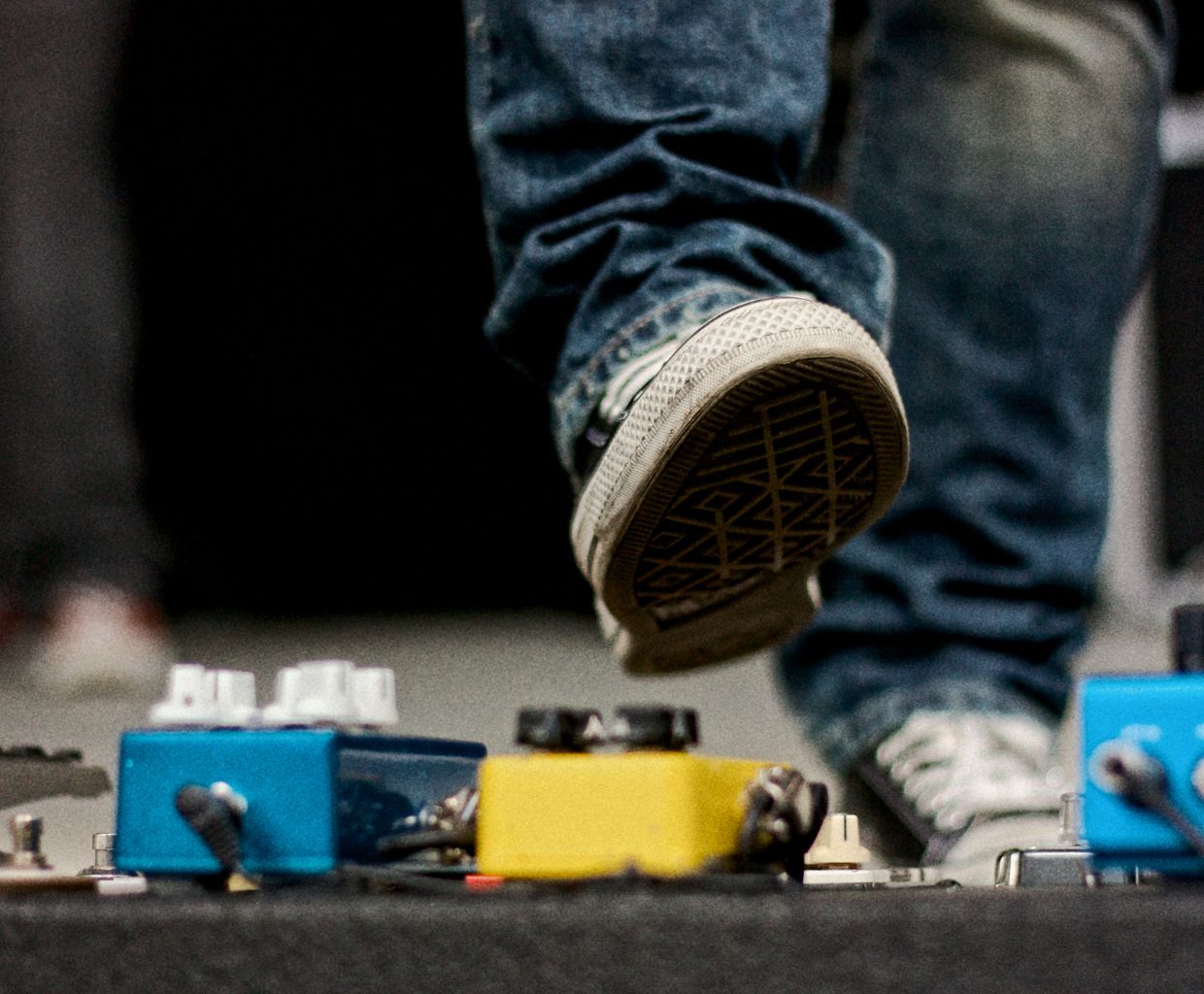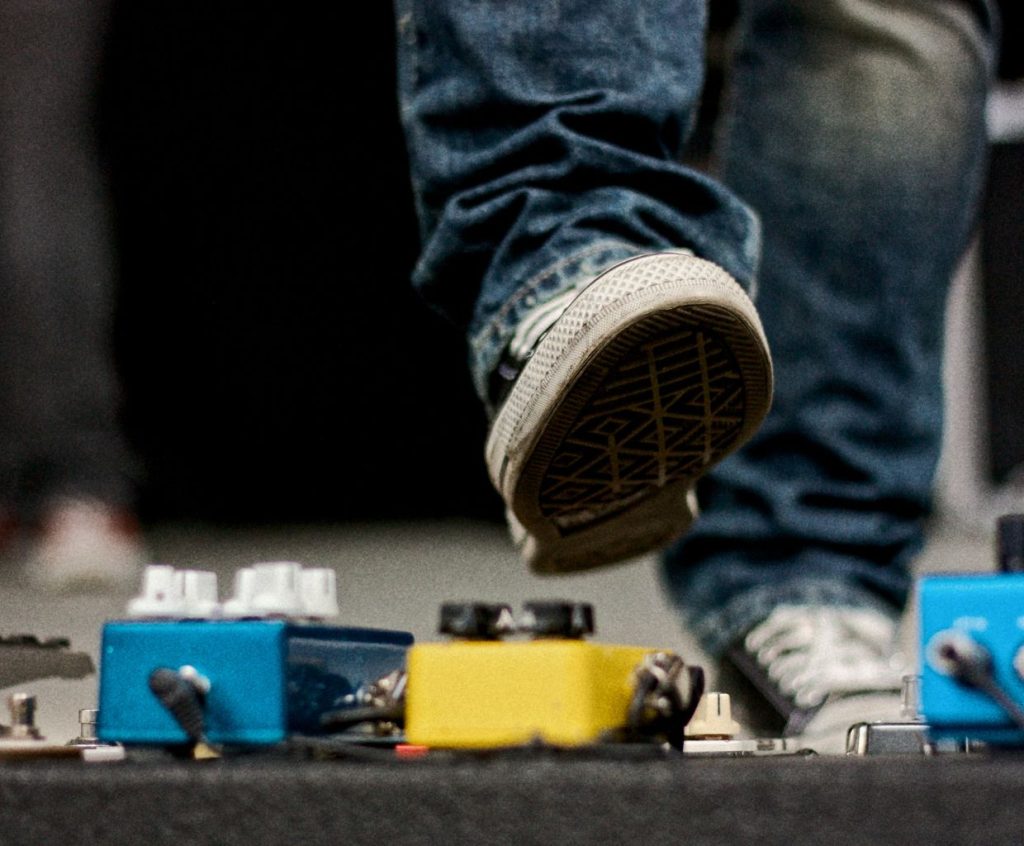 In-Depth Analysis & Reviews
After an intense but gratifying process of trying out a wide range of different pedals, we have narrowed our list of favorites down to 10 of the best.
We will have in-depth information here about each one.  If you read through these ten reviews and l of our considerations in mind, you will be well on your way toward buying the perfect guitar pedal for your rig.
If it is for your 100th one, this information should help you make one; this information should be able to help you make a well-informed choice about your purchase.
#1: Dunlop GCB95 Cry Baby Wah Guitar Effects Pedal
This pedal is an absolute classic that has stood the test of time.  If you don't know what this pedal sounds like, listen to Jimi Hendrix's iconic Voodoo Child (Slight Return).  This is the pedal, the song that started the wah-wah revolution!
The pedal works equally well with clean and distorted sounds.  With the pedal rolled back to the heel position, you get a warm and thick jazzy sound.  With the pedal to the toe position, you can get a punchy soul-like tone that sticks out.  Of course, when you rock it back and forth, you get that classic wah-wah effect that this pedal made famous in the first place.
This is a very versatile pedal that will go well with just about any setup.  There is a reason it has been around for such a long time.
Conclusion:
The pedal that was good enough for Jimi Hendrix is the pedal that is good enough for us.  It has a firm grip on the sole and a solid metal build.  It is durable, versatile, and super-expressive.  It is highly recommended wah-wah pedal!
Pros
 Affordable price.
 Good grip on the pedal.
 Durable, solid steel build.
 Analog design.
 Works with a 9V battery or AC adapter.
Cons
 Some of the newer digital wah pedals are more versatile and expressive.
 High-end tones can be too sharp for some.
 Can be a heavy addition to a pedal board to keep things light.
#2: Boss DS-1
Our next entry is a distortion pedal.  Of course, this list needs a good distortion pedal.  But this is not just any distortion pedal.  This is one of the most popular and most loved distortion pedals on the market.
When you start using pedals, you will soon realize that boss makes a lot of different pedals.  The thing with Boss is that all their pedals and the DS-1 are no exception; they are incredibly reliable and affordable.  On top of that, the quality is also excellent.
As far as distortion pedals go, this one has all the usual bells and whistles.  It has a tone knob, so you can set the range of frequencies you want the pedal to highlight.  It also has an output volume know that lets you set the volume.  Last but not least, it has a gain control.
With the gain control on a low to medium level, you can get that friendly clear crunch tone, while when you put it high, you can obtain a much heavier tone that can be used for metal and hard rock genres.
A single 9V battery or an AC power adapter powers the pedal.  Standard multipurpose power banks will work fine with this and other Boss pedals.
Conclusion:
What I love about this distortion pedal is that you can use it on a low gain setting to bring a little dirt to your existing tone without interfering with the quality of your signal.   It takes up very little space on a pedal board and is reliable and versatile.
Pros
 Affordable.
 Durable high quality by Boss reputation.
 Works well in tandem with other pedals.
 Very versatile in terms of application.
 Can be powered with a 9V or standard Boss power supply that works with a range of other boss stompbox pedals.
Cons
 Limited amount of gain for heavier sounds.
 Can be a noisy pedal.
 The distortion tends to sound a bit muffled at high gain levels.
#3: MXR M234 Analog Chorus
A simple but very effective pedal.  Another one of my favorites, and it comes highly recommended.  This pedal can give you a clean and clear ethereal chorus sound that won't interfere with your existing tone.  Welcome on any pedal board.
The MXR M234 works on an analog signal.  That way, it produces an immaculate effect with minimal alterations to your existing tone.  This is also one of the most affordable chorus pedals you can buy.  Especially considering how expensive analog pedals can be.
The MXR M234 targets the selected frequencies on the tone knob and brings them out to make them shine.
The pedal produces minimum buzz while still giving you a beautiful original effect.
Conclusion:
There is hardly a pedal on the market that would give you such a clean and clear analog sound with such a wide range of manipulability for such a reasonable price—highly recommended for the professional quality pedal.
Pros
 Affordable for high quality.
 All steel casing (very durable).
 Works well along with other effects without interfering with the primary signal.
 Clear analog effect sound.
 Can be powered with or without a power supply.
Cons
 Sometimes, the battery power does not work.
 Can interfere with signal volume.
 Not everyone likes the flat blue color
#4: Zoom G1Xon Guitar Effects Pedal With Expression Pedal
This pedal is perfect for guitarists who want a little bit of everything without breaking the bank. On this single unit, you can access just about every sound imaginable.  Think of it as 100 different pedals all in one.
You can access controls like gain, delay, and reverb chorus from the digital interface.  It also allows you to save your settings.  So you can save different combinations of sounds on a particular patch and then reaccess them with the simple press of a foot.
On top of the effects, it also has an expression pedal.  The expression pedal can be programmed to serve any number of functions.  It can serve as a wah, volume, or pitch bend, to name a few.
As with all multi-effects pedals, you will have to compromise on the quality of some sounds.  It is all digital and a good way to start familiarizing yourself with different effects.
Conclusion:
As far as multi-effects pedals go, this is an excellent place to start.  You have a little bit of everything.  If you take your time to know how to use this unit properly, you will get years of usefulness out of this pedal.  Both live and in the studio, it can do the job!
Pros
 Very versatile.
 Light in weight.
 Small size for a multi-effects
 Includes an expression pedal
 One of the most affordable multi-effects pedals available
Cons
 Not all effects sound equally good.
 Might not cut it for professional standards.
 Inconsistent output level.
#5: Joyo JF-12 Voodoo Octava Guitar Pedal
This is an exciting and cool pedal.  It is unique in that it is not a multi-effects pedal per se, but it gives you two quality effects in one pedal.
The Joyo JF-12 gives you high-quality distortion and octave effects in one pedal.  It is an extremely popular pedal, and for an excellent reason.  Both the octave and the distortion components of this pedal are high quality.  Since the two effects are often used simultaneously, it makes sense that this combination exists.
The pedal also has true bypass, which means you can use it on on pedal board with many other effects, and bypass it without affecting the signal to any of your other pedals.
Solid steel casing for extra durability is always another positive addition.
Pros
 Two quality effects in one pedal;
 Easy-to-use interface
 True bypass.
 High Gain output
Cons
 Of putting green color.
 Issues with the bass frequencies in the octave setting.
#6: Behringer Vintage Tube Overdrive TO800
Okay.  We have to be honest about this pedal.  It is a cheaper rip-off version of the classic Ibanez tube screamer.  It is pronounced from the color to the fact that it is an overdrive pedal.
The reason it made out a list, though, is more than justified.  It does an excellent job of copying one of the most iconic overdrive pedals of all time, and it does all of this at half the price.
This has a classic low-gain crunch sound to give you the perfect amount of dirt for that bluesy sound that so many guitarists are after.  You can also push the gain higher for an even heavier sound.
Conclusion:
Classic tube screamer sound for a fraction of the price.  Works well with low and high gain settings.  Very versatile pedal if you want to bring some dirt to your tone.
Pros
 Very affordable
 Easy to use and easy to replace
 Clear digital signal
Cons
 Ugly pedal design.
 Not as good quality as the Ibanez Tube Screamer
#7: Donner Yellow Fall Vintage Pure Analog Delay
Sometimes you find awe-inspiring things that come in the tiniest of packages.  The Donner Vintage is one of those things.  What an incredible, high-quality delay pedal in such a small package!
Delay is an essential effect on just about any rig.  You can use it either to create surreal spacey sound design effects, or you can use it just slightly to beef up your existing tone.
The build and setup of this little pedal are fundamental and intuitive.  Set it up with a simple battery and power supply, and you will have the hang of it in minutes!  Simple to use but with great sound.
Conclusion:
Pure analog Whole circuit delay in a total Aluminum-alloy classic, stable and robust casing.  It has a true bypass and provides a transparent and clear tone. 3 Knobs: echo, time, and feedback to create just the right effect
Pros
 Very compact and easy to use.
 Super affordable for such a high-quality delay effect
 One of the most popular delay pedals on the market.
Cons
 Bigger delay units are more versatile.
 Better suited for more modest effects needs.
 Range of the delay can be lacking.
#8: Ernie Ball MVP
By far one of the most underrated pedals out there. Every pedal board needs a volume pedal; it is not called the MVP for anything, regardless of the music you play or what kind of pedals you intend to use alongside it.  We all need a good volume pedal.
What is excellent about the MVP is that it doesn't need any power; you feed your line on one side and out of the other, and you are ready to go.
The easiest thing to forget, but by far one of the most critical aspects in ant setup.
Conclusion:
Another one of the excellent value-for-money entries on this list.  This is the pedal for you if you are looking for a reliable volume pedal at a very reasonable price.  It does nothing flashy but will give you a newfound sense of control over your entire rig.  It can create a sense of balance between the different sounds on your board, but it can also be used to create unique swell effects.  Learn to use a volume pedal properly; it is much more exciting and valuable than most people anticipate.
Pros
 Affordable
 Easy to use
 Solid hard steel build
 No need for a power supply or battery
Cons
 String connecting the pedal to the mechanism often breaks and is very difficult to replace
 Heavy pedal to add to a board
#9: DigiTech RP55
Another multi-effects pedal on our list.  This one is even more affordable than our Zoom entry.  It does not include an expression pedal like Zoom but has many other valuable effects and features.
It has 11 Amp Types that you can choose from on the device's digital display.  Not all of the amp sounds are convincing, but they are good enough to give you an excellent idea of what these things sound like.
You can also select from 5 different Cabinet Types and 20 separate Studio Quality Effects.  But this is relaxed and fun because it has a built-in drum machine with 30 patterns to choose from.
Conclusion:
This fun pedal is an excellent way for any beginner to explore different effects and sounds.
Pros
 Very affordable
 Easy to use.
 Good introduction to different types of effects.
 Built-in drum machine
Cons
 Can be noisy.
 Some effects are lousy quality.
 Design of the pedal is very light, and it does not feel sturdy.
#10: TC Electronic Guitar Ditto Looper Effects Pedal
Very cool, popular, and different from anything else on this list.  The TC Electronic Guitar Ditto Looper Effects Pedal will make your effects pedal board stand out from the rest.
Despite its small size and movability, this pedal has 5 minutes of loop time with unlimited overdubs.  This means that with this tiny intention to a smaller pedalboard, you have access to an infinite amount of layers of sound that you can lay on top of one another to your heart's content.
This pedal has an all-analog signal and true bypass, so it won't affect your signal if you are not using it.
Conclusion:
This is the single most compact quality loop station you can get.  If you are not going to be making loops longer than 5 minutes, there is nothing more you could need.  It hardly takes up any space on the pedal board, and the quality of the loops is top-notch.
Pros
 High quality
 True bypass
 Analog sound quality
 Works well on acoustic and electric instruments
 Affordable
The Final Thoughts On Best Guitar Pedal 2023
So many pedals to choose from!  And so many great sounds to play around with.  Pedal shopping is super fun but can be pretty overwhelming.
We hope that our detailed reviews and list of considerations helped give you some direction in buying your new pedal.
Does our list have your favorite pedal on it?  Did we leave anything out?  Let us know in the comments.  If you like the article, please share it with your guitarist friends.
Until next time, keep practicing and keep rocking.
Read more: