Best Distortion Pedal 2023 – The Complete Buyer's Guide & Review
A distortion pedal is usually one of the first pieces of gear for an electric guitar, after the guitar and amplifier.  This article aims to help you find the best distortion pedal. One that fits your taste and budget will put you well in crafting the perfect electric guitar sound.
It is the key to getting that dirty electric sound that most guitarists are after. The problem is that buying your first distortion pedal can be tricky.
With the market flooded with brands and models of various qualities, it can take time to decide what to buy.
By providing you with all the information you need about distortion pedals, the options available, and the pros and cons of each one, this article will help you decide on the right option for you.
I Know We Are All So Busy… Here Is The Top List:
 Our Top Pick Brand: Electro Harmonix.
 Boss DS 1.
 Electro-Harmonix Big Muff.
 Wampler Sovereign.
 MXR Super Badass.
 Pro Co Rat 2.
 MXR M104 Distortion.
 Boss MT 2.
 TC Electronic – Dark Matter Distortion.
 Danelectro D1 Fab.
 Donner Morpher.
**Below are things to consider before buying your distortion pedal and our top 10 detailed reviews. 
Things To Consider When Buying The Best Distortion Pedal
As mentioned above, distortion pedals are generally one of the first pieces of equipment guitarists buy after their guitars and amplifiers.
Distortion effects are often found in multi-effects pedals, but this article will focus on distortion pedal stomp boxes.  That is to say that we will review and write about separate units specifically designed to give you that dirty distorted sound.
There are several things to keep in mind before buying your distortion pedal.  We will run you through some of the most important things to remember.  These considerations will help you choose the pedal that will fit your budget and help you get the perfect sound.
Please keep the following things in mind while reading our reviews. That way, you will be informed enough to make a good choice.
Distortion is all about gain. In basic terms, the gain is the dirtiness or intensity that the pedal can produce. It depends on the signal the circuit lets through. The more gain, the fuller and more intense the distorted sound. The amount of gain that you prefer would be a very subjective choice. You can get a pedal with the right amount of gain for the sound you want. Blues-type distortion pedals generally have much less gain than heavy metal pedals.
This ties in with our previous point. By the very nature of distortion pedals, they change the sound of your signal quite drastically. So, you must ensure that your distortion's type and intensity suit your taste and the genre of music you will be playing. Distortion is one of the more extreme effects (compared to reverb or compression, for example) so make sure you get a sound you love.
 The rest of your pedalboard
Since distortion changes the signal, you must keep all other pedals on your board in mind. You must be sure that your distortion works with whatever else you have. Pay specific attention to the "lighter" effects like reverb and how they complement your distortion.
This goes for all pedals, but distortion pedals are particularly critical because many amplifiers come with distortion units inside the amp. If this is the case, try the distortion with the amp distortion to see how it sounds. It might be too intense, but you might also be able to find a balanced combination that you like.
The power supply of your distortion pedal is an essential and often overlooked component of your setup. Please ensure that your power supply does not create noise with the rest of your setup. Since distortion pedals are generally quite loud already, you must use a power supply that won't be too noisy.
Apart from the amount of gain on your pedal settings, it would be best if you got a distortion pedal that allows you to manipulate the tone of your signal. Since distortion can sometimes change your overall sound quite drastically, you want to be able to change the tone to something that sounds good with the extra gain.
Generally, when you use a distortion effect, it will go along with a volume change. Sometimes you want the distorted sound to boost volume, while other times, you might want to blend your level with the rest of your pedal board. Either way, you need to adjust the effect's volume without losing the distortion effect's quality in the process.
A distorted effect also frequently comes with an increase in the level of sustain that you get on your tone. Ideally, you want to be able to manipulate this level. Check out pedals with a knob that increases and decreases your sustain level.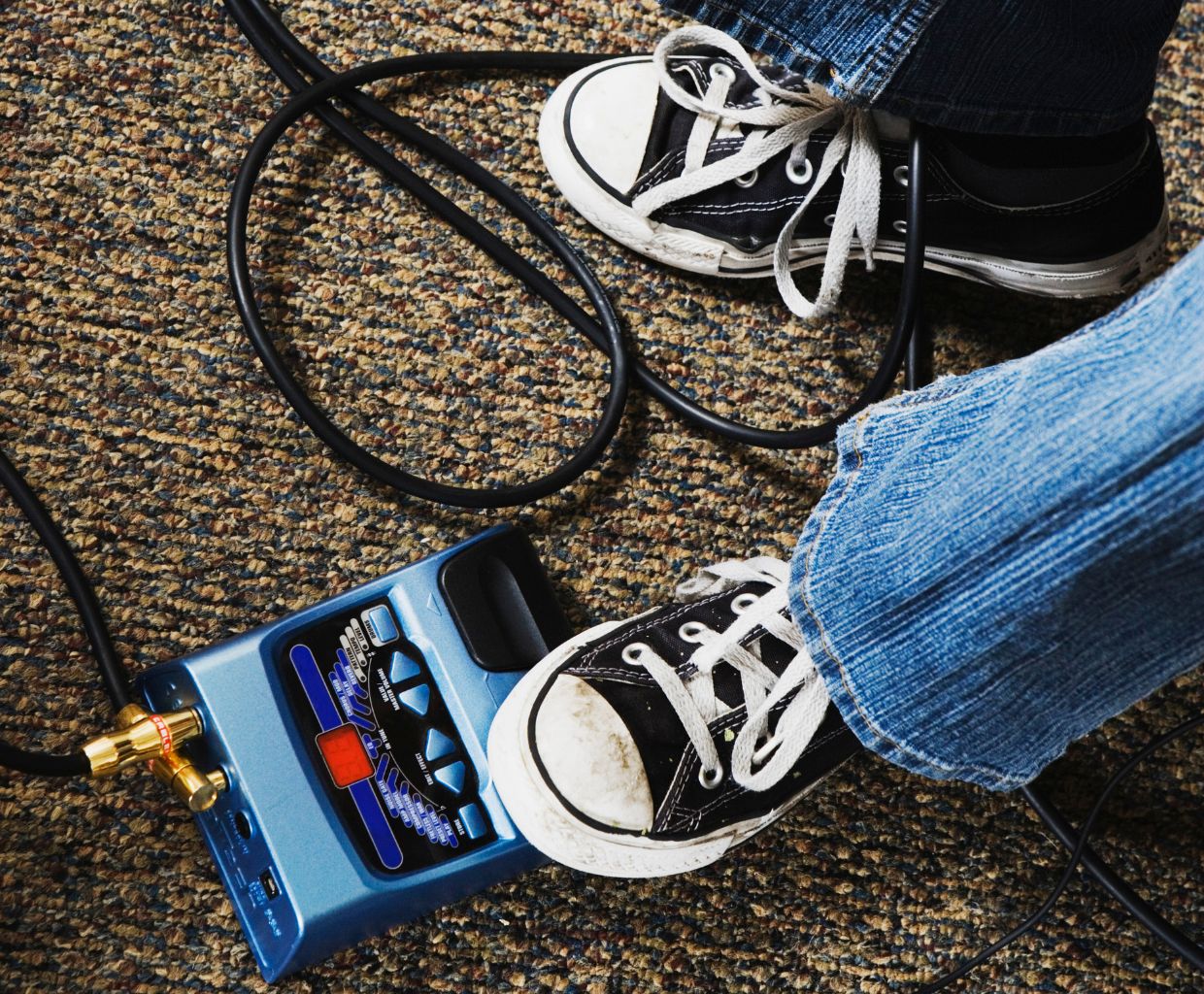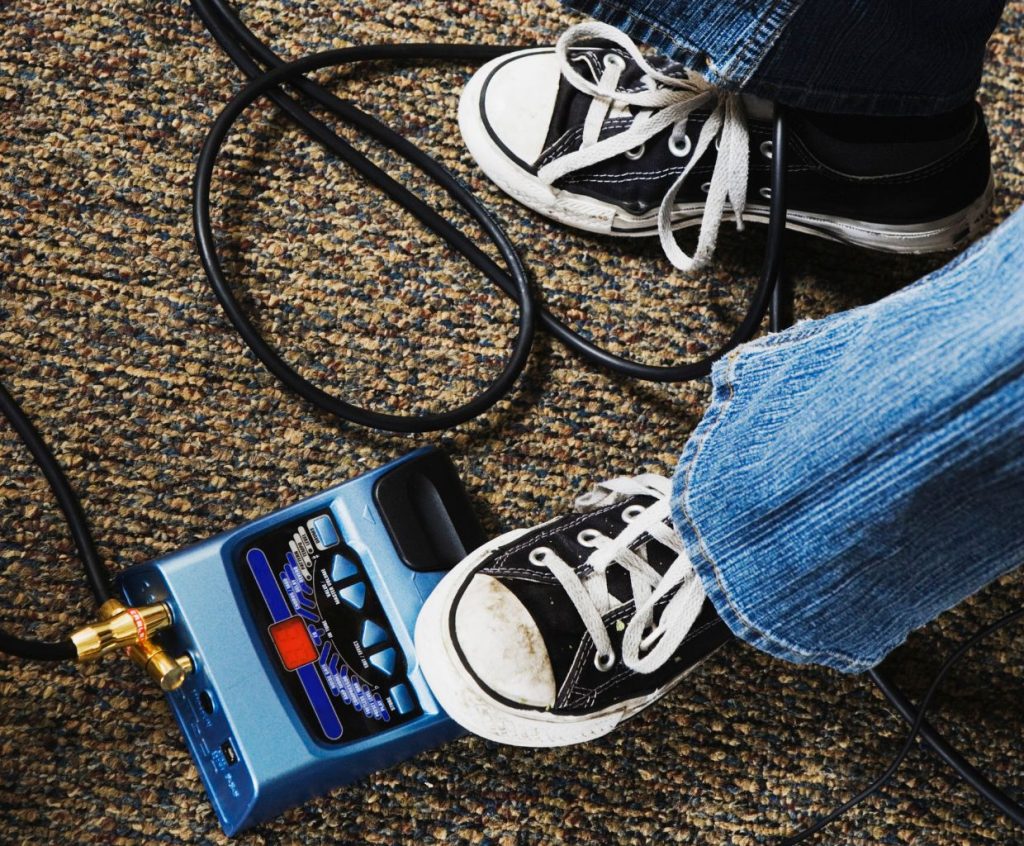 In short
With all that in mind, you should be able to make an informed decision about your distortion pedal.  Here is a quick summary of all of the most important aspects:
 Get a pedal with the appropriate amount of gain for your taste and style.
 The distortion must work with the rest of the sounds on your pedalboard.
 See what distortion settings (gain) your amplifier has and how that works with your new distortion pedal.
 Make sure your distortion pedal has a tone setting.
 You need a distortion pedal to blend your volume with the other sounds on your board.
Best Distortion Pedals 2023 – Top 10
| NAME | SIZE | GENRE | PRICE |
| --- | --- | --- | --- |
| Boss DS 1 | Stomp box, regular. | Rock, Metal | Amazon |
| Electro-Harmonix Big Muff | Stomp box, large | Rock | Amazon |
| Wampler Sovereign | Stomp box, regular rock rock | Rock, Hard Rock | Amazon |
| MXR Super Badass | Stomp box small hard | Hard rock, Metal | Amazon |
| Pro Co Rat 2 | Larger sboxlock | Rock, Metal | Amazon |
| MXR M104 Distortion | Small Stomp Box | Rock, Hard Rock | Amazon |
| Boss MT 2 | Stomp box, regular. | Metal | Amazon |
| TC Electronic – Dark Matter Distortion | Regular | Rock, Hard Rock | Amazon |
| Danelectro D1 Fab | Medium | Rock | Amazon |
| Donner Morpher | Extra small | Rock | Amazon |
What Did Not Make Our List:
Behringer OD 300
This is quite a popular distortion pedal.  Its popularity comes down mainly to one specific feature:  the price.  This is a very affordable pedal.  But unfortunately, it verges on being cheap.
The sounds, especially at higher volumes or gains, tend to sound relatively flat regardless of the tone settings.
The pedal needs to be corrected and is, in fact, a perfect choice for beginners.  This might be a good choice if you want to start experimenting with distortion effects but are not willing to spend too much.
However, our list needs to be better than the other entries we have in our reviews.
Aroma ADT 1 Distortion Pedal
Just like our previous entry that was left out, this is also a budget entry.
Unfortunately, just like with most other things, the price and the quality of the product are closely related.
The high gain sound on the Aroma ADT 1 tends to sound very thin.  The sound pedal can also be heard through the amplifier whenever it is pressed.
Our Pick For The Best Distortion Pedal 2023
I have to admit that Electro Harmonix is a personal favorite brand of mine.
Just as expected, their distortion pedal does not disappoint.  It is our editor's choice for the best distortion pedal for 2017.
This is a high-quality pedal that is still at a reasonable price.  The sound can get heavy (with the high gain) but still manages to be balanced through the settings.
The unit is easy to use and blends well with other effects and pedal arrangements—an excellent distortion pedal for beginners and pros alike.
Top 10 Distortion Pedals – Analysis & Depth Reviews
With our dedicated team of experts and wide range of tests, we tried to narrow down a list of the top 10 best distortion pedals.
We tried to include something for everyone.  Some pedals are heavier than others.  That would be the high-gain pedals.  Others forget that light crunch sound, or even just for boost or extra sustain.
There are also distortion pedals to fit every budget.  If you read our reviews, keep all the considerations in mind and whatever sound you are going for.
The idea is that this will give you all the information you could need to select the absolute best distortion pedal for you!
#1: Boss DS-1 Review
One of the most famous distortion pedals on the market.  Boss pedals have a long reputation for being affordable and of decent quality.  This particular boss distortion model is no different.
One of the benefits of using a boss pedal is that they are straightforward to replace.  So if you get a sound that you like, you will be able to get the right pedal for your sound no matter where you find yourself.
The knobs and settings on the DS one are basic and standard.  There are controls for tone, level (volume), and gain.  These are all you need and more than take care of the basic needs of crafting an excellent distorted tone.
Like almost all Boss stomp boxes, you can power this pedal with a 9V battery or a standard Boss power supply.
This is one of the milder Boss distortion pedals.  There are pedals out there with a lot more gain than this one.  Many players use the DS­-1 simply some texture around an established tone.  It works well in tandem with other pedals.  Even with other distortion pedals.
Conclusion:
We commend the DS-1 as an entry-level distortion pedal.  It has all the basic settings you need to sculpt a solid distortion sound.  It works well with other pedals and quickly adds to an already established pedal board.
Pros
 Affordable
 Durable high quality by Boss reputation.
 Works well in tandem with other pedals.
 Very versatile in terms of application.
 Can be powered with a 9V or standard Boss power supply that works with a range of other boss stompbox pedals.
Cons
 Limited amount of gain for heavier sounds.
 Can be a noisy pedal.
 The distortion tends to sound a bit muffled at high gain levels.
#2: Electro Harmonix – Big Muff
Yes, the EMX Big Muff was our 2017 editor's choice.  And for a good reason as well!
This is one of those legendary pedals that has stood the test.  For more than 30 years now, it has been a favorite amongst guitarists.  If it was good enough for Jimi Hendrix, it is good enough for us!
The EMX Big Muff has a very intense gain setting that can give you that muffled Hendrix sound.  That is probably the tone that this pedal is most famous for.  It is, however, also possible to dial the tone down quite a bit and to use it simply as a means of rounding off a cleaner sound.
It works well with chordal and lead playing and has excellent sustain levels. The steel casing of the pedal means it is extra durable and easy to maintain.
Conclusion:
Excellent pedal.  Classic sounding, a high-quality pedal that can be pretty versatile once you get the hang of it.  Exceptional sustain for that violin-like lead sound—affordable price for a boutique quality pedal.
Pros
 Classic old-school distortion sound.
 Better than average sustain function.
 Durable metal casing and generally very high-quality parts.
 Affordable price for a boutique-like pedal.
Cons
 The distortion is definitely on the "old school" sounding side. It won't work for those of you after the more modern-sounding distortions out there.
 Pedal is more expensive than other pure entry-level models.
 Tone is not as good on the high ends and ends.
#3: Wampler Sovereign
This is one of the more expensive
.  It is, however, probably one of the most versatile distortion pedals.
The feature that sets this pedal apart from many others is the high gain switch.  Apart from increasing the gain with a know, there is also a switch on the pedal that allows you to change from a classic sounding distortion (think AC DC) to a higher gain, sustained, and full sound.
This gives the pedal an incredible range in terms of its capability.
Conclusion:
As we have mentioned, this is not the cheapest of pedals.  But what you pay for with this pedal is versatility.  Wampler could fit so much into a such pedal, only the essential knobs, and switches.  It is easy to use, but you this l can still sculpt just about any distorted sound out there
Pros
 Highly versatile
 Condensed a lot of malleability onto a small, easy-to-use pedal.
 Switch between classic and high gain modes.
 Boutique design and quality.
Cons
 Expensive
 It has a lot of low ends and might be ill-suited to use on amplifiers that are also naturally lower.
#4: MXR M75 Super Badass
It is easy to underestimate the MXR M75.  But the truth is that the name says it all.  This pedal is a total badass.
One of the first things you will realize is that it has three different tone knobs.  You can change the bass treble and mid frequencies independently.  This means you can find the exact texture you are looking for after setting your gain level.
This high-gain pedal is mainly used in Metal and Hard Rock music.  The intense high gain of the pedal is combined with an excellent sustain that keeps the dirty sound from getting dry.
Conclusion:
Of all the more hard-core pedals, this is a favorite that you can change the tone quite drastically to get sophisticated sound out of your rig even after putting a lot of gain on your channel.  The excellent level of sustain and decent high-end frequencies of this pedal are also all definite positive points.
Pros
 Very High Gain.
 Triple tone control to sculpt a balanced high gain distortion sound that mixes well with the rest of your board and the music you are playing.
 Great sustain
 True bypass
 Fully analog
Cons
 Not good with lower gain sounds.
 Can be noisy on a pedal board.
 Can't adjust the sustain level.
#5: Pro Co RAT 2
This has been a popular distortion pedal since the 80s.  Musicians like John Scofield, Jeff Beck, and Bill Frisell have all had this in their rig to give them that signature dirty RAT sound.
What sets this pedal apart from many of its editor's editor sell it functions with chords and lead sounds.
The type of distortion the rat offers is much of the older classic kino. If you a. looking for that extra high gain temporary lead sound, this may not be something other than l.
Many guitarists also find the sound to be pretty muffled.  It is not necessarily a bad thing.  For me, it comes down to taste.  If you like the low-end dirty sound, this pedal is perfect.
Conclusion:
The RAT 2 is a pedal where you know exactly what you get.  It is not as versatile as the Wampler Sovereign, but if you know what you are looking for, that's not a problem.  It is easy to use and has all the usual three settings knobs.
Pros
 Legendary classic distortion sound.
 Easy to use
 Durable parts.
 Intense and complete low-frequency distortion.
Cons
 Not a very versatile pedal.
 Bulky and can crowd a pedal board that has limited space.
 Sometimes lacks clarity in the upper register frequencies.
#6: MXR M104 Distortion
This is one for the fans of that old-school 70's'70se of distortion.  The type of distortion that has the high-air clipping sound.  It sounds a lot like a naturally overdriven sound.  The perfect pedal for that classic hard rock sound.
The pedal has only two knobs.  And believe it or not, that's all you need.  As you increase the gain, you can hear different parts of the tonal spectrum filling out.  The knobs are straightforward to operate, and you can very soon, almost intuitively, start sculpting your perfect sound.
I like how this pedal sounds when the gain setting is pretty low.  It gives an excellent, crystal-clear crunch sound that works beautifully with chords.  The resonance of the distortion is there, but without impeding the richness of the harmony.
Of course, you can crank the gain up higher and come closer and closer to the classic 70's complex rock sound.
Conclusion
Superior quality and a versatile pedal.  Get that light crunch sound and complete-bodied complex rock distortion.  The pedal is easy to use and works well on a board with other pedals.  It is small and does not take up unnecessary space on a pedal board.
Pros
 Exceptional clean crunch sound
 Small and easy to use
 Just two is still surprisingly versatile
Cons
 Only has old-school distortion.
 Expensive for a reasonably basic pedal.
#7: Boss MT 2
Another Boss entry on our list.  This is, again, a very popular pedal.  But, unlike our first Boss entry, this stomp box is designed and marketed specifically for metal music.
That meanThisgain is considerably higher than that of the DS-1.
The MT 2 has incredible sustain to go with the high gain to give you that driving metal sound that works exceptionally well with humbucker pickups and drop d tunings.
The pedal naturally boosts the low and mid-range frequencies.  The ultra-high-gain pedal also allows for some bright harmonics.
This pedal is only for those who are committed to wanting a very distorted sound.  It has very high gain and does not sound good with a light distortion or crunch sound.
Conclusion:
Super high-gain pedal that is great for metal music.  Not great if you are looking for milder, less heavy sounds.  Since it is a boss pedal, it is affordable and durable.
Pros
 Very high gain, so it is perfect for Heavy Metal.
 Affordable
 Great sustain.
Cons
 Can be a very noisy pedal to have in your rig.
 If used with an incorrect power source, it can create a buzz in your pedal boapedalboard
 Does not do well with lower gain sounds.
#8: TC Electronic – Dark Matter
I like this pedal because it is more agile than most other "heavy" pedals.  Even though it can stand its ground with the other high-gain metal pedals, the TC Dark Matter also does an excellent job at covering the spectrum of sounds outside the heavy stuff.
The gain knob allows you to move freely between classic rock sounds to higher gain modern metal sounds—all areas in-between sound more than decent.
The two-tone knobs give you space to fine-tune your sound after adding the gain.
Conclusion:
This excellent value-for-money hardcore distortion pedal still does justice to the lighter sounds on the spectrum.  The high-gain sound is decent quality, and the pedal is generally more versatile than other pedals.
Pros
 Versatile for a metal pedal
 Affordable
 Compact and easy-to-use design
 True Bypass
Cons
 Sustain is not as good as some competitor pedals
 Can get noisy.
#9: Danelectro D1 Fab
This entry is on our list specifically for beginners.  This is not the highest quality pedal, but it is decent enough for starting.
The pedal covers a middle-range distortion.  It is not as heavy as the MT2 but can push the gain.  The pedal is very responsive to all the front panel settings.
It has the usual basic settings of level, gain (distortion), and tone and can work off a power supply or a 9V battery.
Conclusion:
Good entry-level distortion pedal if you want to start experimenting with distortion effects but are not ready and are still deciding to do something more serious.  This pedal will do its job and introduce you to the world's facts.
Pros
 Very affordable
 Easy to use.
 Good introduction to distortion effects.
Cons
 Can be noisy.
 Bad sustain.
 Design of the pedal looks very cheap
#10: Donner Morpher
This tiny stomp box mimics the sound of a high-quality tube amp.  It packs an awful lot of gain into such a small package.  On top of that, the unit is very responsive to increases in gain and the signal from the guitar.
The pedal has three modes so that you can select the type your distortion types. The little pedal can give you a classic or modern sound, depending on what you are going for.
The small pedal is also a massive advantage for traveling musicians or musicians who have difficulty making more space on their effects boards.
Conclusion:
This is a convenient and excellent-looking pedal.  But apart from the looks, it can also do its job well.  This is one of the better distortion pedals today, small as it may be.  Good sustain, high gain, three settings, and a reasonable price!
Pros
 High quality
 Small design that is easy to store, travel, and fit on a pedal board
 True bypass
 High Gain
 Good sustain
 Three different distortion types
Cons
 Might be challenging to anchor due to the size
 Not equally compatible with all amplifiers. Make sure to test it first (in terms of sound)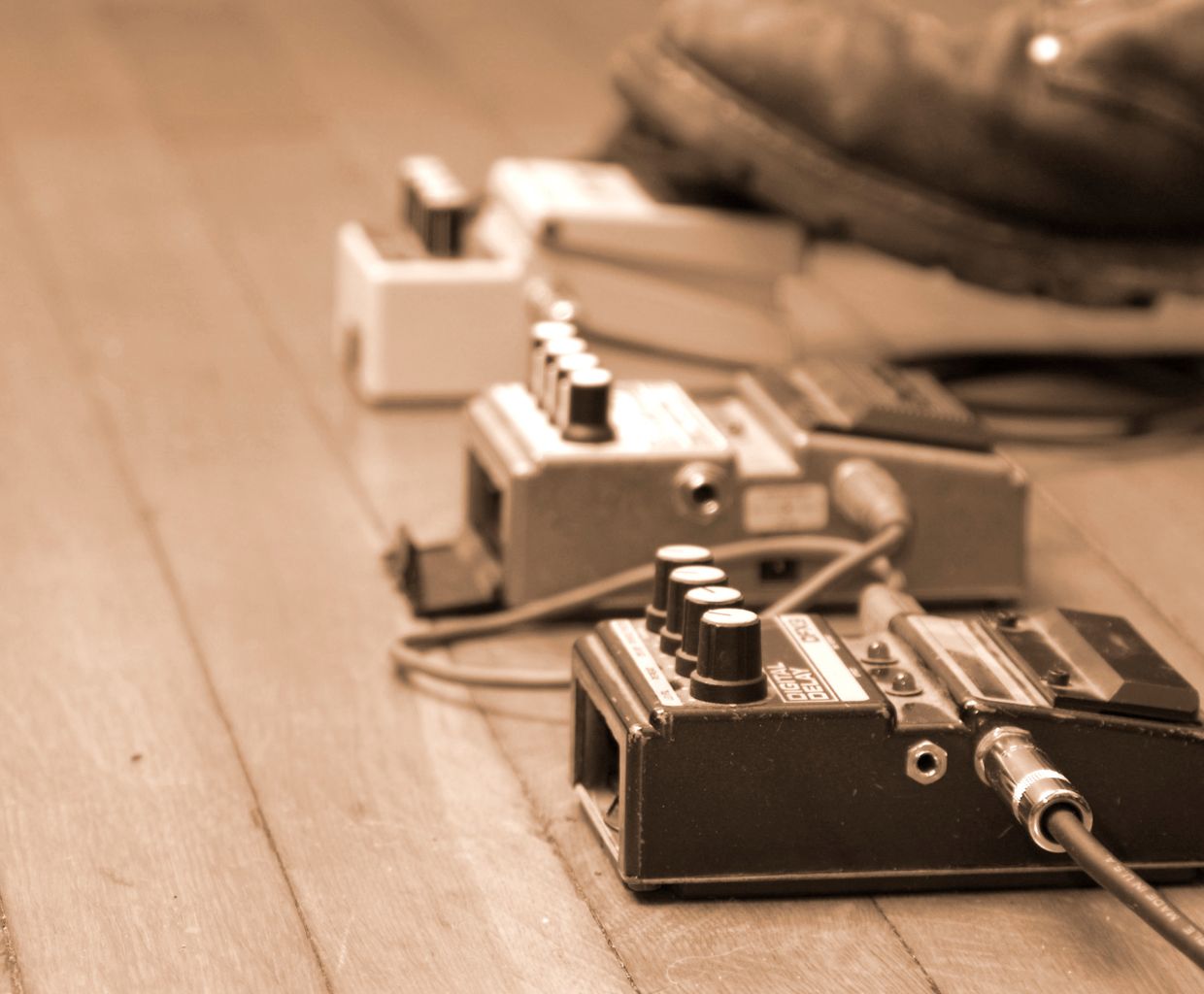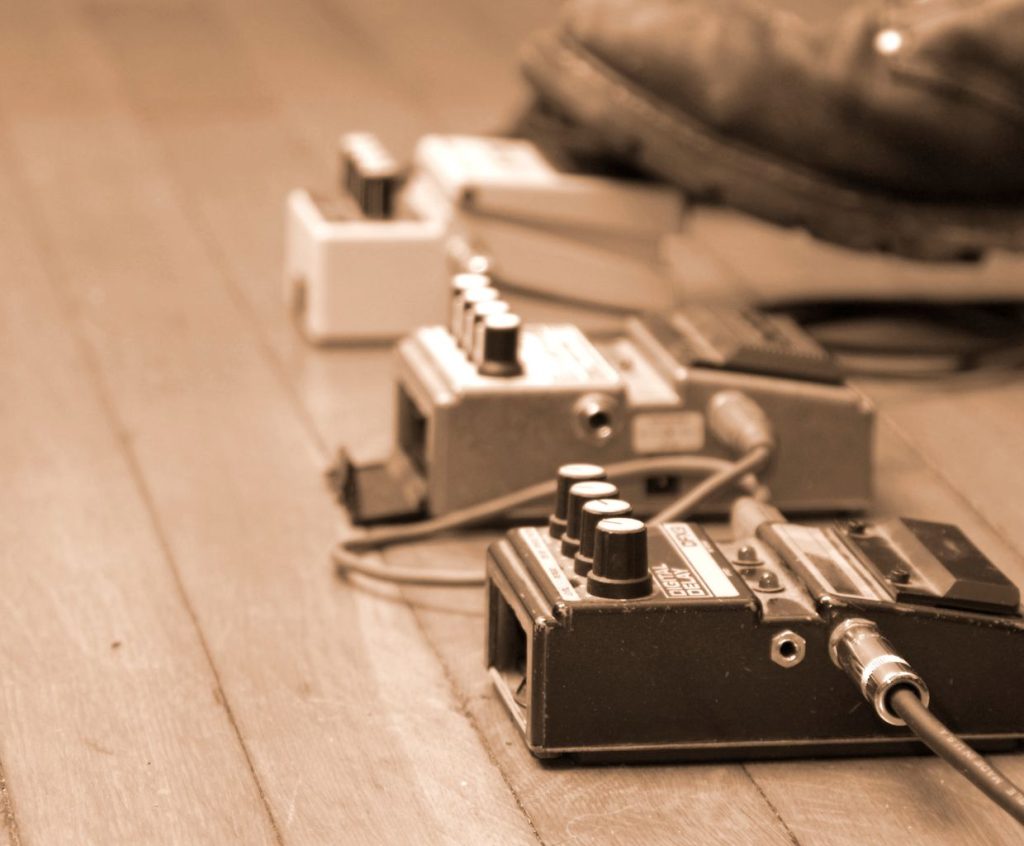 Wrapping It Up
These reviews were designed to guide you through choosing the best distortion pedal. The most electronics, you are making the right choice when buying a distortion pedal can be challenging.
Music is all about personal expression, and our main goal is to guide you toward finding the pedals that will help you find the best sound to express your vision and personality.
Did you enjoy our reviews?  Did you find them helpful?  We hope that you did.  If we left out your favorite stomp box, please let us know about it in the comment section.
If you found this helpful, please share it with your friends! Until next time, keep practicing and keep rocking
Read more: